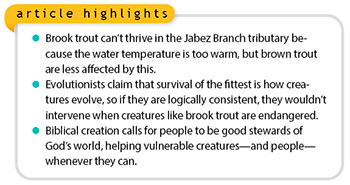 Should a freshwater stream be restored to make it habitable for a failing fish population such as brook trout?1 It makes sense that creationists proactively care about biodiversity and environmental stewardship, but why should evolutionists care?2 These real-world questions are illustrated by Maryland's Jabez Branch, a tributary of the Severn River in Maryland. Jabez Branch is the only stream in the state's Coastal Plain that is—or maybe was—home to brook trout.1
Jabez Branch's critical problem that prevents it from serving as a critical habitat for brook trout is its temperature. When stream water gets too hot, it's a hostile habitat for brook trout.
Unlike the nonnative and more adaptable brown trout [Salmo trutta], brook trout [Salvelinus fontinalis]…are typically found in clear, cold streams and rivers in the Piedmont region or higher elevation headwaters of the [Chesapeake] Bay watershed. Downstream, in the Coastal Plain, the water gets too hot in the summer for brook trout to survive. Jabez Branch, however, has been an anomaly, with cool springs feeding it and the shade-casting boughs of forest along much of its banks.1
So, what changed this previously cool-enough brook? Thanks to expanded highways (including Interstate 97) and suburban sprawl, storm-sewer runoff drains land-warmed rainwater into Jabez Branch, slightly increasing stream water temperature. Also, the surges of rain runoff erode stream banks, draining soil sediments and organic nutrients into stream flow, worsening water quality factors for brook trout sensitivities.1,3
But brown trout are less sensitive, so they compete better in such circumstances. According to repeated monitoring done by electrofishing, this causes population decline of brook trout—they must detect and abandon overly warm streams.1,3
But, from the brown trout's—or an evolutionist's—perspective, who cares if warmed stream waters discourage populational success for local brook trout?
Creationists appreciate how God values biodiversity, as Noah's Ark illustrates.2 But how can evolutionary thinking promote biodiversity? Evolutionists have no moral basis for valuing biodiversity.2,4
Brook trout losses are brown trout gains, exhibiting self-promoting wildlife competition, what Darwinian evolutionists call survival of the fittest or natural selection.
Yet the sophistic phrase "survival of the fittest" illustrates the defect of logic called tautology (i.e., redundancy fallacy, proving nothing) because evolutionists define populational fitness by survival, so "fitness" really means that whoever survives was fit (or "lucky") enough to survive—in other words, the survivors survived.4
Also, as ICR's Dr. Randy Guliuzza has amply documented, the phrase "natural selection" is an animistic/magic-word synonym, depicting a personified nature that somehow environmentally prefers (favors or disfavors) to select one animal over another.4
Worse, survival-of-the-fittest terminology is harnessed to rationalize terrible cruelties, such as the eugenics movement,4 as if might makes right—a fact historically illustrated in World War II by both the Nazi Germans and the Imperial Japanese.5
In sum, biodiversity appreciation and conservation ethics clash with evolutionary ecology concepts.2,5 However, appreciating and conserving biodiversity as Noah once did makes perfect sense for biblical creationists.2,3
References
* Dr. Johnson is Associate Professor of Apologetics and Chief Academic Officer at the Institute for Creation Research.