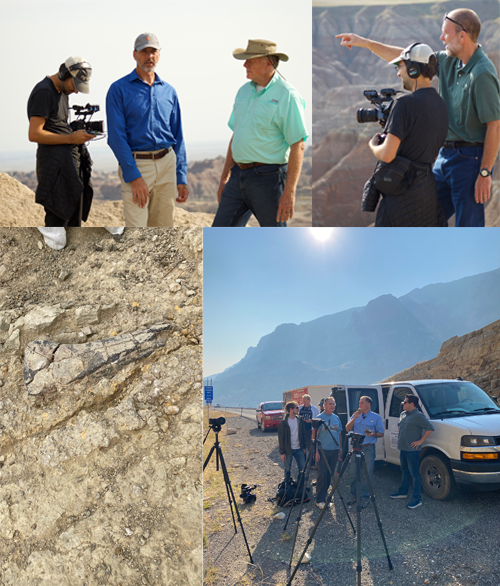 A team of 11 people from the Institute for Creation Research is currently traveling on a multistate science expedition to dig up fossils, conduct field research, and capture footage on location for two new ICR-produced films. You'll find reports on the first week of the trip in "
ICR's 2021 Science Expedition Begins!
" and "
ICR's 2021 Science Expedition Update
."
Badlands National Park in South Dakota is a geologist's dream with its buttes, canyons, pinnacles, and spires. It also testifies to the reality of the Genesis Flood.
Rain hampered the ICR expedition team's efforts to film in the Badlands for a couple of days. But as they made their way out of the west side of the park, the skies cleared and they spent two hours capturing some great footage and interviews with stunning geological structures in the background.
One of the best parts of the team's filming was documenting a lengthy clastic dike in the rocks and shooting short interviews for ICR's upcoming Flood geology documentary, as well as video shorts that will be posted to ICR's YouTube channel (
www.youtube.com/icrorg
) in the coming months.
The team then packed up and headed for Wyoming. On the way, they stopped near Deadwood, South Dakota, to film at what was once the largest gold mine in the Western Hemisphere. Our crew interviewed Dr. Tim Clarey and Dr. Frank Sherwin from the museum's observation deck.
After driving through eastern Wyoming, they arrived at their destination just a few miles from Devil's Tower. The team unloaded their gear and went to work excavating an area of the property known to contain dinosaur fossils. Not long after they cleared away a large section of the "over burden," Dr. Brian Thomas found a dinosaur leg bone. Several in the group found other bone fragments in the washout areas nearby and another much larger leg bone that they prepared to cast in a plaster jacket.
The crew got great footage of the fossil dig, as well as interviews and teaching videos by Dr. Clarey and Dr. Sherwin.
Stay tuned for more updates at ICR.org, and be sure to follow ICR @ICRscience on
Facebook
or
Instagram
to see photos posted daily by our expedition team.