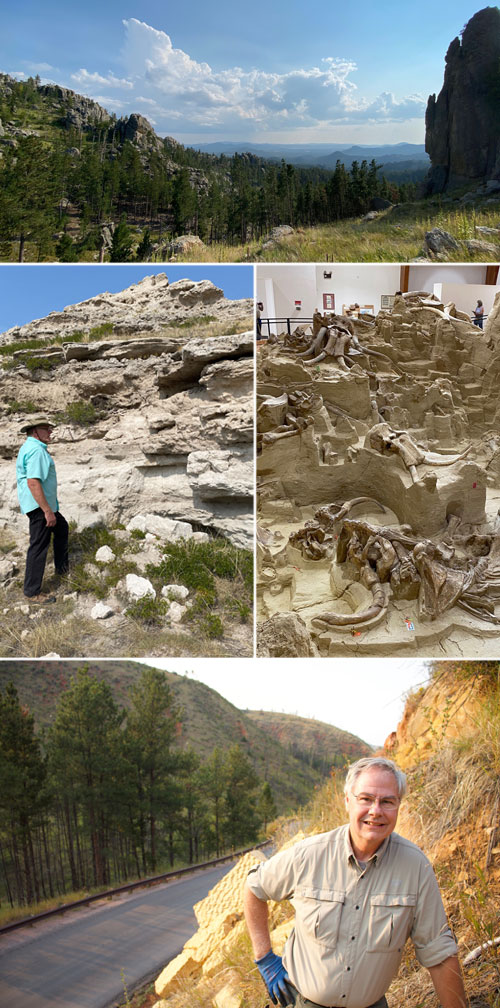 A team of 11 people from the Institute for Creation Research is currently traveling on a multistate science expedition to dig up fossils, conduct field research, and capture footage on location for two new ICR-produced films. We reported on the first few days of the trip in "
ICR's 2021 Science Expedition Begins!
" If you missed that report, click
here
.
When we left off with our team, they were in Kansas. As they traveled from there to Rapid City, South Dakota, the crew filmed at the historic Chimney Rock, a unique erosional remnant and famous landmark on the Oregon Trail. From there, they went to the Agate Fossil Beds National Monument in western Nebraska to capture footage of the numerous mammals buried in the rock layers.
In Hot Springs, South Dakota, they visited the Mammoth Site Museum, a working dig site with a mass graveyard of fossilized mammoth bones. The team got some great footage in the dig area up close to the fossils—a unique opportunity.
Some of the group took a detour to see the wildlife in South Dakota's Custer State Park, including this large herd of grazing bison. They also encountered some ministry friends. While driving through the park, a family in a minivan noticed the ICR trailer and yelled out the window, "We get the ICR magazine!"
A portion of the team accompanied ICR President Dr. Randy Guliuzza to the Needles Formation in Black Hills, South Dakota, to document samples of fossilized wave ripples. (You'll see one sample behind Dr. G's right elbow in the bottom photo.)
The rest of the group drove over to Rapid City, South Dakota, where they picked up Dr. Tim Clarey from the airport and then headed east to the incredible Badlands National Park. They were able to squeeze in some filming before sunset at this beautiful, rugged park, including interviews with Dr. Clarey and Dr. Brian Thomas.
Stay tuned for the next expedition update. And be sure to follow @ICRscience on
Facebook
or
Instagram
to see the expedition team's daily posts.