Scientists mapped the color shading of a particularly well-preserved Chinese fossil—a Psittacosaurus [sit uh kuh SAWR us]—onto several three-dimensional, lifelike models of the dinosaur. They discovered that the extent of lighter areas on its belly matched that of today's animals that live in shaded areas, like beneath trees, as opposed to open plains. In the process, the researchers confirmed pigment and protein remnants in the fossil skin that should have decayed long ago if they were really millions of years old.
This pristine, small dinosaur fossil came from China's Jehol Biota, fossil beds to which secular geologists attach an age of over 120 million years based on when they believe some of its now-fossilized creatures were alive and evolving. But if that many years actually elapsed since sediments suddenly buried this entire animal, then how could it still contain the short-lived biochemicals that made its skin color darker on its back? How could it still have what appear to be remnants of the proteins that make its reptilian scales still bumpy?
The scientists who worked out the dinosaur's color-shading scheme published their results in the journal Current Biology.1 In the Supplementary Information section, the authors noted that other studies have confirmed pigments like melanin within fossils, as well as the proteins collagen and keratin in such fossils as bird feathers and reptile skin. They wrote, "While few studies have investigated the effect of melanin to observed colours in animal skin, the clear colour patterns and evidence for embedding within keratinised scales suggest that the organic imprints are a reliable proxy for the original relative colour patterns across the body."1
"Keratinised scales" refer to reptile skin. In reptiles like lizards, keratin bumps within their collagen-containing hides form tough, but flexible, tiny armored plates like tiny, flat fingernails embedded in thickened skin. Keratin forms fingernails, feathers, and horns.
The authors' phrase "organic imprints" is rather non-committal. It leaves a door cracked open to the possibility that this Psittacosaurus skin merely looks and feels like partly decayed dinosaur skin, yet no original skin proteins remain. But they suggested no possible scenarios about how minerals could duplicate the look and feel of skin scales and yet not replace its original pigments and pigment-containing cell structures called melanosomes.2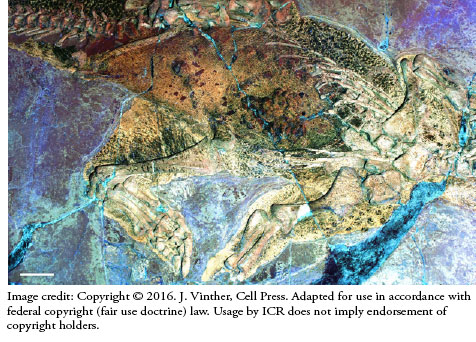 The team published images using laser stimulated fluorescence of the skin. It responded to the light like actual skin and bone typically do—but not bright and shiny like minerals.
The researchers could have conducted the same kinds of tests that other authors did to firmly identify proteins in their fossils. Why didn't they?
They have a powerful reason to omit running these tests, but it's not a scientific reason. To firmly identify proteins in a fossil would expose a big problem. They believe this dinosaur was fossilized millions of years ago, but the longstanding science of protein decay has established that skin should never last that long.3 This fossil, like countless others, appears to have been buried only thousands of years ago.
References
Vinther, J., et al. 2016. 3D Camouflage in an Ornithischian Dinosaur. Current Biology. 26 (18): 1-7.
Vinther, J. 2015. Fossil melanosomes or bacteria? A wealth of findings favours melanosomes: Melanin fossilises relatively readily, bacteria rarely, hence the need for clarification in the debate over the identity of microbodies in fossil animal specimens. BioEssays. 38 (3): 220-225.
Collins, M. J., et al. 1995. A Basic Mathematical Simulation of the Chemical Degradation of Ancient Collagen. Journal of Archaeological Science. 22: 175-183.
Image credit: 2016 © J. Vinther. Adapted for use in accordance with federal copyright (fair use doctrine) law. Usage by ICR does not imply endorsement of copyright holders.
*Mr. Thomas is Science Writer at the Institute for Creation Research.
Article posted on September 29, 2016.