The staff at ICR trusts you enjoy the hummingbird picture taken outside a window of our main building. It was noticed months ago that an adult bird was weaving a nest on a palm frond. Being a science organization and lovers of God's living creation, we closely followed the maternal events as they unfolded. The tiny eggs hatched and in due time, the two rapidly-growing hatchlings were literally bursting from the confines of their nest. It was interesting that the mother, perched on a nearby branch (always the same one), would intently watch her little ones in the nest. She would occasionally zoom around the nest, showing her crouching, bewildered offspring that "this is how you do it!"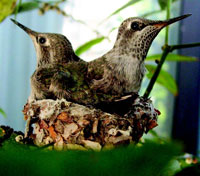 Hummingbirds challenge the neo-Darwinian paradigm. Their size, flight characteristics and patterns, metabolism, all point to our magnificent Creator who designed these amazing animals and created them on Day Five. Secular scientists reject this and state,
So, in fact, birds are not some separate biological entity, distinct and apart from "reptiles." Birds are dinosaurs.1
Is it really scientifically accurate to say that the ferocious T. rex evolved into birds, that it did not become extinct but sprouted feathers and is now able (in the hummingbird's case) to hover and fly rapidly backwards?
Speaking of flight, such agile flying requires power and coordination. One evolutionary publication said in regard to hummingbird flight,
Hypobaric challenge is met behaviorally through compensatory changes in wingbeat kinematics, particularly in stroke amplitude.2
Translated, this means the tiny creature has been wonderfully designed to compensate for low pressure problems encountered in flight. But did such "wingbeat kinematics" just evolve by mutations, or is there a Supreme aero-engineer? Unbelievably rapid muscle contraction is the power source of the rapid wingbeats. Skeletal muscle fibers (cells) may be divided into red (sustained use with a greater supply of blood) and white (designed for short, rapid bursts). Not surprisingly, hummingbird muscle, such as the paired supracoracoideus, are of the red type and at least 30 percent of the bird's weight—about 10 percent more than other birds.
The amazing feathered acrobat, the tiny, fearless hummingbird!
References
Fastovsky, D. E. and D. B. Weishample, 1996. The Evolution and Extinction of Dinosaurs. Cambridge, UK: Cambridge University Press, pp. 320-321.
Altshuler, D. L. and R. Dudley, 2002. The ecological and evolutionary interface of hummingbird flight physiology. The Journal of Experimental Biology, v. 205, pp. 2325-2336.
* Frank Sherwin is a zoologist and seminar speaker for ICR.