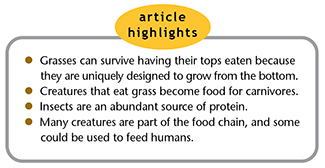 In times of calamity and crisis, it's easy to question whether life makes sense—or, more accurately, how God is making ultimate sense of everything.1,2 Unsurprisingly, fallen humans propose answers that miss the mark, failing to understand how a good-yet-groaning world can accomplish the perfect purposes of the Creator.3
The pages of Scripture provide the big-picture answer that this life is the best of all prequels for the best of all possible eternities.1 Scripture also gives the best of all counsel for life here and now.4 Our Creator is faithful to His plans and His people. One evidence of His abundant provision for all His creatures is literally under our feet.
The leaves of green plants, including grasses, testify that our Creator is clever, capable, careful, and caring.5 This "hidden in plain view" providence showcases the food chain that begins with photosynthesis, the sunlight-powered carbohydrate-manufacturing of nutritious food for herbivores, who themselves become food for carnivores and/or insectivores.6
Grass is designed to grow after its top portions are eaten by grazers.
The main growing parts [of grasses] are not at the stem tips, but at the base of the leaves. This means that as the leaves are eaten by herbivores, they simply regrow and replace their lost parts.…[with] many [grasses having] a specialized form of photosynthesis which is particularly efficient under high light intensity and high temperature conditions. It is also a system which allows more carbon dioxide to be fixed per unit of water than conventional photosynthesis.7
Examples of such food chains include large grass-grazing herbivores like bovines, sheep, and pronghorns that are eaten by humans, cougars, or bears. Smaller herbivores such as rabbits are eaten by wolves or foxes. Many herbivores go unnoticed because they are even smaller, like grasshoppers (which include locusts), leafhoppers, and crickets. These tiny herbivores are eaten by insectivores—mammals (aardvark, pangolin), reptiles (gecko, chuckwalla), birds (flycatchers, bee-eaters), and even some humans, like John the Baptist.8
Edible herbivorous insects like grasshoppers (the most popular insect food for humans), termites (the next-most popular), crickets, and ants are recognized as an underdeveloped potential food supply for needy nations that abound with these types of insects.8,9 Spraying field crops with pesticides produces toxicity problems if crop-attracted insects are captured and eaten by humans.9 But grasshoppers/locusts, termites, and crickets—as well as edible beetles, moths, ants, wasps, leafhoppers, planthoppers, cicadas, and pentatomid bugs—are available to help alleviate famines if these arthropods can be secured apart from pesticides.8,9
When a field crop is covered with a plague of locusts, some despair. Optimists, however, recognize that locusts are providentially edible and seek practical solutions for taking useful advantage of potential food sources. The God who provides for "the grass of the field" surely provides for us.10
References
James 5:10-11. Johnson, J. J. S. 2011. Human Suffering: Why This Isn't the "Best of All Possible Worlds." Acts & Facts. 40 (11): 8-10; Johnson, J. J. S. 2010. Misreading Earth's Groanings: Why Evolutionists and Intelligent Design Proponents Fail Ecology 101. Acts & Facts. 39 (8): 8-9.
Morris III, H. M. Pain and Suffering. Days of Praise, April 1, 2017. See also Johnson, J. J. S. 2014. The Truth Test. Acts & Facts. 43 (1): 22.
Colossians 2:8; 1 Timothy 6:20. Evolutionists routinely err on this causality topic. See Tomkins. J. P. John Walton's Twisted Views on Disease and Suffering. Creation Science Update. Posted on ICR.org May 13, 2020; Johnson, J. J. S. 2020. Water Drops and Human Value. Acts & Facts. 49 (2): 21.
1 Peter 4:19; John 3:16.
Acts 14:17. See Matthews, M. 2016. Green Factories. Answers Magazine. 11 (4): 86; Johnson, J. J. S. Lawn Care Is Essential: Grasses Glorify God. Creation Science Update. Posted on ICR.org April 26, 2020; Guliuzza, R. 2009. Made in His Image: From Solar Energy to Human Energy. Acts & Facts. 38 (3): 16; Sherwin, F. Lowly Plankton Packs High-Caliber Heat. Creation Science Update. Posted on ICR.org April 20, 2017.
Edible food energy derived from plants is evidence of God's caring providence. Johnson, J. J. S. 2011. Our Daily Bread: How Food Proves God's Providence. Acts & Facts. 40 (4): 8-9.
Moore, P. D. and B. D. Turner. 1987. Savanna Grasslands. In The Encyclopedia of Animal Ecology. P. D. Moore, ed. Oxford, UK: Equinox Ltd., 71. See also Johnson, J. J. S. 1995. Creationist Ecology, from Tundra to Rainforest: An Introductory Study of Climates and Creatures in the World's Major Ecosystems. Dallas, TX: NWQD Press/Dallas Christian College, 22-23.
Matthew 3:4. Johnson, J. J. S. Locust Plague Now 20 Times Worse. Creation Science Update. Posted on ICR.org May 8, 2020.
Grasshoppers and termites are especially nutritious for amino acids, lipids, essential minerals, vitamins, and digestible fiber. See Anankware, P. J. et al. 2015. Insects as Food and Feed: A Review. International Journal of Agricultural Research and Review. 3 (1): 143-151; De Figueirêdo, R. E. C. R. et al. 2015. Edible and Medicinal Termites: A Global Overview. Journal of Ethnobiology and Ethnomedicine. 11: 29.
* Dr. Johnson is Associate Professor of Apologetics and Chief Academic Officer at the Institute for Creation Research.