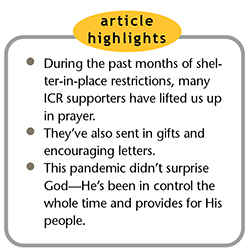 Without a doubt, the global spread of COVID-19 has forced most of us to make major adjustments to our daily routines. Whether the stay-at-home mandates and the economic collapse that followed were a necessary evil or were overreactive and excessive, they produced an outpouring of encouragement from many ICR supporters. It's been my joy to receive many uplifting notes over the past few months, and I'd like to share a few of my favorites with you.
From a supporter in Georgia:
Back in the '70s, I was privileged to meet Dr. Henry Morris for just a few moments. The following years [have] been a great blessing, knowing that I saw this great man of God…and spoke to him in person. I use his Study Bible and the many devotions he has written along with the rest of the family team. My humble thanks for your continued ministry. And may our Lord continue to bless and provide…'til Jesus comes again!
Then there's this letter from a 91-year-old subscriber in Minnesota: "Much of my life I taught 8th-grade science in public school…and I have appreciated your position on the creation-evolution debate. My heart and personal ministry have been greatly encouraged."
A pastor in the South responded online:
Thank you for recommending ICR's new book Carved in Stone. Oh my…FANTASTIC work! It truly is the 21st-century version of your grandfather's classic book The Genesis Flood, just like you claimed. I couldn't have prayed for a better way to spend my time during "forced quarantine" (even tho' I'm not sick), and I'm raring to get back into the pulpit armed with this new info. May God bless your marvelous ministry!
A teacher from Washington said this:
Our Lord is faithful to supply, and we are thrilled to be able to support ICR—especially during this difficult time. We have personally received so much from your ministry. As an educator, I am especially grateful for the God-honoring materials that you continue to publish as it provides much-needed biblically based answers that I occasionally have opportunity to share with my secular students. Thank you for all that you do in the Lord's service.
From California came this brief note from a long-time supporter: "This Easter is my 50th birthday in the Lord. To celebrate, we had a flight and hotel booked to visit the [ICR] Discovery Center [for Science & Earth History]. Now that we had to cancel, I look forward all the more to a visit later."
And finally, I was recently forwarded this uplifting email from a donor in Ohio:
I was prompted to give after I read one of the most recent articles from you guys, "The Gospel We Are Called to Preach" [April 2020 Acts & Facts] and just really want to support the only…true message that we all need. Praise God for your platform. Your ministry has been most helpful to me. Thank you for all that you do!
All of these marvelous testimonies are a blessing to me personally, and I trust they will be a great blessing to you as well. Even during an epic "forced quarantine" of global proportions, our Creator is still sovereign, and all believers are safe in His capable hands. It's my hope our supporters are encouraged—and new ones will be inspired—to continue lifting up ICR's ministry through their prayers and gifts.
* Mr. Morris is Director of Operations at the Institute for Creation Research.