by Lori Fausak and Susan Windsor*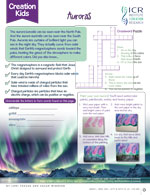 You're never too young to be a creation scientist! Kids, discover fun facts about God's creation with ICR's special Creation Kids learning and activities page.

Auroras are found all the way at the earth's poles. They're like giant light shows that dance across the night sky. But do you know what makes them glow? The Lord Jesus created these beautiful colors, just like He made you!
Click HERE to download the March-April 2023 activity page.
Click HERE for all of ICR's Creation Kids activity pages.
* Ms. Fausak is an editor and Ms. Windsor is Graphic Design Specialist at the Institute for Creation Research.