Many alive today have witnessed the entire history of space flight. Anyone who looked up to see Sputnik cross the sky on October 4, 1957, remembers the panic that set in across the country. The thought of communists beating us to space was intolerable. American prestige sank to a new low when Vanguard, the Navy's attempt to launch a satellite into orbit on December 6, blew up on the launch pad before the watching world. The turning point in the race came with America's first success, Explorer 1, on January 31, 1958--50 years ago. Two key figures in this achievement became bold Christians in the years that followed.
Though technical success in space is a collective achievement, the title "father of the space program" or "world's greatest rocket scientist" could defensibly be given to Wernher von Braun.1 Only von Braun took space exploration from childhood dreams to reality. By his death in 1977, his rockets had taken man to the moon and probes to Mars, Venus, and Mercury, with the Voyagers en route to the outer planets.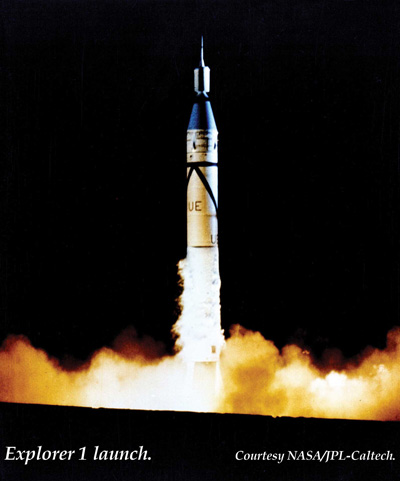 In 1962, an engineer led Dr. von Braun to Christ using a Gideon Bible. Upon praying to repent of sin and receive Christ, the eminent rocket scientist confessed that he felt like a great burden had been lifted off him. He became a fervent Christian, and prayed for the success of his launches. As Apollo 11 lifted off the pad, he was found reciting the Lord's Prayer. Never pushy about his faith, he spoke openly about it when asked. In 1972, he wrote to the California school board to argue for inclusion of non-evolutionary views in science classes. Popular magazine articles by von Braun discussed science's dependence on Christian faith.
Another man behind the success of Explorer 1 was Dr. Henry L. Richter, Jr. (Ph.D., Caltech), the Group Supervisor of Explorer Design and Development. After Explorer 1's success, he continued work on the Ranger, Mariner, and Surveyor programs, eventually leaving JPL for private enterprise and consulting. During those same years of the 1960s, Dr. Richter recognized his need for the Lord and later became a committed Christian. Recently, he published a small book that describes the wonders of life and the universe.2 Richter explains how these intricate designs could not have evolved. The book, which defends a young-earth position, ends with a call to receive the gospel of Jesus Christ.
I received a surprise call from Dr. Richter this past December. At the time, I did not know who he was. Dr. Richter said he had read some of my articles in ICR's magazine and wanted to get acquainted, since he was coming to the lab to work on a documentary film. On the day we met, I was astonished to learn he was a key player in the mission that brought America to space. Now 80 years old and still sharp, he fascinated me with tales of those adventurous days.
A month later, on January 30, JPL had a big 50th-year anniversary celebration for all employees. Dr. Richter was an honored guest among dozens of octogenarian retirees who came for the occasion. I heard him give a speech to employees about Explorer 1. He ended with a bold testimony about how he came to have a glorious relationship with the Designer of the universe.
I can testify from experience that there are many Christians in the space program. They may not write the press releases, but they are there. They do excellent work, witnessing as they can in a mostly secularist/evolutionary environment. Like followers of Jesus Christ in all walks of life, they are the salt and light of the planet.
References
Although Dr. von Braun's research was co-opted by Germany during World War II, von Braun himself was never a supporter of Nazism.
Henry L. Richter, Jr., PhD, PE. 2006. The Universe: A Surprising Cosmological Accident. Longwood, FL: Xulon Press.
* David Coppedge works in the Cassini Program at the Jet Propulsion Laboratory. The views expressed are his own.
Cite this article: Coppedge, D. 2008. Christians in Space. Acts & Facts. 37 (4): 15.