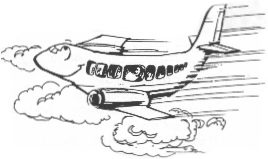 I was flying back to San Diego recently, when the video being shown on the in-flight entertainment system caught my attention.
An excerpt from the movie "Inherit the Wind" was featured on this flight, and presumably on numerous flights to thousands of passengers that month. The reason this sparked my interest was because "Inherit the Wind" was the movie about the world famous court trial in Dayton, Tennessee conducted in 1925.
This, of course, was the famous "Scopes" trial, in which the State of Tennessee was prosecuting the teacher, John Thomas Scopes, for teaching evolution in the public school system.
Sadly, the movie did not follow the transcript of the trial strictly, and contained much fiction, with an obvious anti-creation, anti-Christian bias.
One thing that particularly caught my attention was the excerpt that was chosen for the airline video program. The scene was one where the ACLU lawyer, Clarence Darrow, was cross-examining the main attorney for the prosecution, William Jennings Bryan, asking him the question, "Where did Cain get his wife?"
The scene showed that William Jennings Bryan (who was not merely representing the state, but the Christian world view) was not able to give an answer to this question. Clarence Darrow persisted in asking the question a number of times in different ways, but to no avail. Bryan had no answer.
This question, "Who was Cain's wife?" is one that we get frequently at seminars. Many non-Christians believe Christians have no answer to this question, and that, therefore, the Bible can't be trusted. It was sad to realize that this idea was being portrayed to thousands of passengers.
As most Christians know, there is a very easy-to-understand answer to this question. The exciting aspect of this issue is that, far from highlighting Cain's wife as a problem, the answer gives strong support to the truth of Genesis. (If you are not familiar with the answer, it can be found in several of the ICR books for example, The Answers Book.)
Viewing this excerpt from "Inherit the Wind" prompted me to obtain the actual transcript of the Scopes Trial and read it through. I have reproduced below the section where Clarence Darrow asked William Jennings Bryan the question about Cain's wife.
Question by ACLU Lawyer Clarence Darrow: "Did you ever discover where Cain got his wife?"
Answer by William Jennings Bryan: "No sir; I leave the agnostics to hunt for her."
Darrow: "You have never found out?"
Bryan: I have never tried to find."
Darrow: "You have never tried to find?"
Bryan: "No."
Darrow: "The Bible says he got one, doesn't it? Were there other people on the earth at that time?"
Bryan: "I cannot say."
Darrow: "You cannot say. Did that ever enter your consideration?"
Bryan: "Never bothered me."
Darrow: "There were no others recorded, but Cain got a wife."
Bryan: "That is what the Bible says."
Bryan was asked numerous questions about the Flood, the age of the earth, the creation of Adam and Eve, certain miracles in the Bible, the inspiration of Scripture, and the serpent in the garden.
For most of these questions, Bryan did not have satisfactory answers. In fact, on the one hand, he was standing up for taking the Bible literally, but when asked about the days of creation, he said he did not think they were twenty-four hours each. He said he did not know what they were.
After reading through the transcript, it is easy to see that the lawyers for the defense were really there to attack Christianity and put their case for evolution to the world. They certainly accomplished these two things.
By cross examining Bryan, the defense lawyers were able to show that this learned Christian gentleman did not have adequate answers to basic questions about Genesis. Not only this, but they brought in evolutionary experts who gave numerous supposed "scientific evidences" for evolution, and these were never refuted at the time.
It is interesting to note that many of their "evidences" have now been discarded by evolutionists, such as: Piltdown man, who is now known to be a fraud; human embryos having gill slits (disproved years ago); man having 180 "vestigial" organs left over from evolution (such as the appendix), now known to have important functions.
During the trial, Bryan said, "... they did not come here to try this case. They came to try revealed religion." Later on, he said, "The purpose is to cast ridicule on everybody who believes in the Bible, and I am perfectly willing that the world shall know that these gentlemen have no other purpose than ridiculing every Christian who believes in the Bible."
In response to this statement, ACLU Lawyer Mr. Darrow said, "We have the purpose of preventing bigots and ignoramuses from controlling the education of the United States and you know it, and that is all."
John Thomas Scopes was found guilty and fined for teaching evolution. However, even though the defendant and his lawyers, including ACLU Lawyer Clarence Darrow lost, it has been said that they had won a major victory. What was that victory? They had managed to get their message across to the media and the public that evolution had much scientific evidence, and Christians had a blind faith in a Book they could not defend adequately.
As I considered this, I realized that if the questions asked Bryan by Darrow were asked of the average Christian in America today, he probably would not be able to give an adequate defense for his faith nor refute the supposed scientific evidences for evolution.
However, if one has obtained ICR books and videos and attended ICR seminars, he or she would be able to answer these same questions asked of Bryan and refute the supposed evidences for evolution with authority and logic.
Sadly, most churches today do not teach people how to defend the basics of their faith. This defense must start with an understanding of the foundational book of the Bible--Genesis.. An understanding belief in this book is necessary for any Christian, to be able to defend the basics of his or her faith.
In I Peter 3:15 we are commanded, "But sanctify the Lord God in your hearts: and be ready always to give an answer to every man that asketh you a reason of the hope that is in you with meekness and fear."
How would you qualify in a trial in which you were a witness put on the stand to defend the Christian faith? Could you adequately defend your faith? Or would you, like Bryan, come across as having a blind faith without logical answers to basic questions?
How would you fare? Try to answer the following questions which people use against Christianity?
"Where did Cain get his wife?" "How could all the races develop?" "Is there any evidence for a young earth?" "Where did God come from?'' "What does it mean that the Bible is inspired?" "Is there any evidence for the Flood?" "Does the Bible teach that the sun goes around the earth?" "What was the Tower of Babel?" "When was the Flood?" "How do dinosaurs fit with the Bible?" "If the Bible is right, why were there cavemen?"
See you at a coming ICR seminar—any of which will equip you with the knowledge to "give an answer to every man that asketh you a reason of the hope that is in you with meekness and fear" (I Peter 3:15). If your schedule prevents your coming to a seminar, answers to these and most other questions related to origins and earth history are available in ICR books.