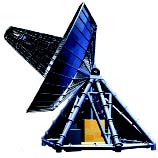 Although evolutionary naturalism has failed to empirically document the molecules-to-man philosophy,1 it makes great strides in sparking the imagination. For example, Hollywood continues to release futuristic, evolution-based movies replete with eye-popping special effects and paper-thin plots. Such films — and numerous television programs — have convinced many that LGM's (little green men or aliens) actually exist.
With evolutionism as the foundation of astronomy, many scientists speculate that the universe is possibly teeming with evolving life forms. The normally staid National Geographic has recently featured a book entitled, Cosmic Company, by astronomers Shostak and Barnett, who use evolutionism to make their questionable case.2 They speak of enormous lengths of time and then state that it would be inconceivable that nothing would evolve somewhere in the universe during those millennia. Each argument against the existence of life somewhere else is met with an evolutionary retort. They also say that we may make contact with aliens by 2025.
There are a number of secular scientists (including the late S. J. Gould) who disagree. In 2000, two scientists showed convincingly in a 315-page book "why complex life is uncommon in the universe."3 Like Darwinists "documenting" transitional forms, some space researchers have resorted to computer simulations to argue for aliens in the cosmos. For all the bravado of claiming worlds like our own exist, Spaceflight Now recently admitted, "It currently is impossible to detect Earthlike planets around other stars."4 In other words, at the empirical (observational) level astronomers have come up empty handed.
Creation scientists maintain that we will never receive messages or entertain intergalactic visitors from deep space simply because there are no such civilizations out there. "As far as the Scriptures are concerned, they teach unequivocally that the earth is uniquely the abode of man [Psalm 115:16 and Acts 17:20]... It seems grotesque and blasphemous to suggest that the tragedy of Calvary's cross should be repeated on millions of other planets, for the benefit of other unknown and hypothetical members of God's creation."5 Theoretical speculations and imaginative evolution-based predictions aside, all research beyond Earth has shown that when it comes to organic life — we're it.
_____________________________
1. Forey, P., Reviews, Journal of Paleontology, 77(1) 2003, p. 200.
2. See news.nationalgeographic.com/news/2003/11
/1114_031114_setisearch.html
3. Ward & Brownlee, Rare Earth, Copernicus, 2000.
4. Spaceflight Now, U. of WA news release, posted December 10, 2003.
5. Morris & Clark, The Bible has the Answer, Master Books, 1976 p. 76-77.
Cite this article: Sherwin, F. 2004. 21 Years Until Alien Contact? Acts & Facts. 33 (3).