Texas Higher Education Coordinating Board (THECB) Commissioner Raymund Paredes on Wednesday, April 23, 2008, recommended that the Institute for Creation Research Graduate School (ICRGS) be denied a Certificate of Authority to grant degrees in the state. On Thursday, the Board voted unanimously to accept Paredes' recommendation.

Paredes issued his recommendation, formulated in advance, despite the approval of both the THECB Site Team, which evaluated the ICRGS in November 2007, and the THECB Advisory Committee that affirmed the Site Team's approval in December 2007. He rejected both reports as "flawed" and instead convened a separate panel of scientists and science educators that advised him not to approve the ICRGS application. ICRGS scientists and faculty were not included in or allowed to respond to this panel.

On Thursday, Joe Stafford, Assistant Commissioner for Academic Affairs and Research, read into record a Texas Education Code statute about preventing public deception in the face of "fraudulent" or "substandard" college and university degrees. ICRGS representatives present at the meeting were not allowed to respond to this mischaracterization of the graduate program.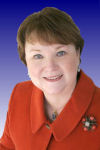 The manner in which the hearing was conducted was characterized by viewpoint discrimination. Prior to Wednesday's consideration of the ICRGS application, THECB committee chairperson Lyn Bracewell Phillips allowed public testimony for 30 minutes on the ICRGS application. Several political activists, including Steven Schafersman—who had evidently not reviewed the ICRGS application materials—launched ad hominem attacks against the credibility and reputation of the ICRGS and its faculty.

Critics have attempted to draw false associations between the ICRGS program and attempts to introduce religion into taxpayer-funded public schools, even though the ICRGS is a private postgraduate institution seeking to train science educators for private schools.

Questions have surfaced concerning the treatment of the ICRGS application by THECB officials and whether Commissioner Paredes and his agency altered the normal process of application review because of external pressures based on ideological biases against the ICRGS.

Under Texas law, the ICRGS may appeal the decision of the Commission or seek other remedies as appropriate.
Article posted on April 28, 2008.