A new study published in the journal Nature showed that the Photorhabdus bacteria's protein toxin, the "ABC toxin," is precisely engineered to deliver a protein payload into neighboring cells. When the host roundworms infect insects, these bacterial toxins take out the creature in two days.1 Such intricacy reiterates creation, but why would a good God design efficient systems with such toxic effects in the first place…or did He?
Researchers from Australia and New Zealand mapped the three-dimensional structure of the "B" and "C" protein components of this ABC toxin. The B component holds two rows of five chitinase enzymes wrapping around its egg-shaped capsule. The enzymes help "chew" through chitin, a hard, tough, yet flexible biomaterial in insects.1
The C protein fits precisely inside the B capsule, forming a B-C complex.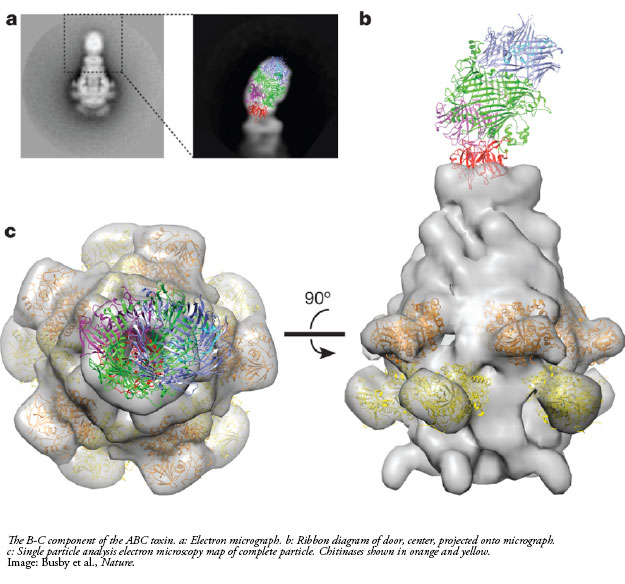 The toxin-delivery sequence works fast. First, the toxin's A component wedges a hole in the host's cell membrane. Next, the B-C complex enters the hole. Then, a tiny door opens to deposit the toxic C component into the cell's interior. This exquisite miniaturization and effectiveness clearly point to intentional engineering.
But why would the Lord build a machine that harms the very insects He so carefully created? Perhaps ABC toxins once served another purpose and were not originally toxins at all.
A clue comes in the ABC toxin manufacturer's name, Photorhabdus. "Photo" relates to the fact that these bacteria bioluminesce, or generate cold light. Nobody yet knows why. But it is possible that what has become the toxin we see today—dysfunctional because of man's sin—was once part of a wonderful biochemical communication system that could turn on and off like a bacterial light switch.
This already appears to be the case with Vibrio bacteria that harmlessly inhabit soil and both fresh and marine waters. These microbes participate in a complicated biochemical communication pattern when they infect transparent, skin-covered pouches in certain squid and fish where they then glow when well-fed by nutrients supplied by their host. The light attracts fish for the host to hunt. It's a mutually beneficial arrangement made possible by cellular banter between totally unrelated creatures.2
However, originally designed to interact with squid and fish epithelial cells, these bacteria now wreak havoc on human intestinal epithelial tissue. There, pathogenic Vibrio strains produce an AB5 toxin—originally involved in nontoxic bioluminescence—that causes cholera, a leading killer in monsoonal countries.
The hypothesis that ABC toxins have an innocuous backstory similar to AB5 toxins awaits further research. If future study supports the idea, then it will bolster the principle of how a ruined creation corrupted that which was once "very good."3
Like each person and creature alive, the elaborately programmed ABC toxins retain hallmarks of excellent original design by a good God alongside evidence that, since the beginning, something has clearly gone awry.
References
Busby, J. N. et al. The BC component of ABC toxins is an RHS-repeat-containing protein encapsulation device. Nature. 501 (7468): 547-550.
Sherwin, F. 2005. Creation, Corruption, and Cholera. Acts & Facts. 34 (11).
* Mr. Thomas is Science Writer at the Institute for Creation Research.
Article posted on October 18, 2013.