"Welcome to the ICR Discovery Center!" Kerry greets the guests with a smile as they walk into the exhibit hall. "Is this your first time here?" Over the last year or so, Kerry has interacted with thousands of the visitors who come to this special Dallas museum to learn how science confirms creation. She was the first volunteer to join the Discovery Center team back in 2019, and since then she has contributed more than 400 volunteer hours.
Several times a week, Kerry comes to ICR to engage with guests, guide them through various parts of the exhibit hall, or run the planetarium shows. She delves into many ICR resources on her own time, growing in her knowledge of creation science and then sharing with guests what she's learned. She even keeps one of ICR's books or an issue of Acts & Facts with her during her shift to review while she waits for the next visitor to come along. Her cheerful, Christ-focused attitude encourages the hearts of many who interact with her—guests, staff, and fellow volunteers.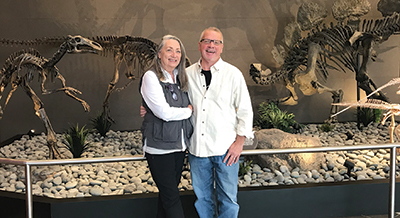 Kerry is not the only member of her family to invest in ICR's ministry. Not long after she began volunteering, her husband, Jon, offered his time and talent as a retired engineer. Jon's biggest contribution is behind the scenes—helping with various technical and mechanical projects.
"Jon is always willing to help when we need him—day or night," says ICR Facilities Manager Michael Lane. Jon also assists with a variety of projects and repairs around ICR's main campus. "No matter what the job is," Lane continues, "he always does it with a good attitude—whether it's climbing into the belly of the [mechanical] T. rex or power-washing the park area." Jon even tapped into his engineering background to develop a custom LED light system for the entry and exit hallways near one of the Discovery Center exhibits.
Jon and Kerry love ICR, but their sights are set even higher. "[Jon] always says he is [serving here] for the Lord," Lane states. And Kerry's goal is very much the same: They both want to honor God with their resources, and they do that by pouring their time and energy into ICR.
"This is my ministry," Kerry has said many times. To her, volunteering at ICR is not merely an alternative to other activities or pastimes—it's a tangible way to reach into people's lives with Christ's truth and love, to encourage believers and lovingly challenge unbelievers.
This same goal characterizes many ICR volunteer team members. Each day the Discovery Center is open, they arrive ready to take part in ICR's mission: to proclaim Jesus' truth in creation. The evidence for biblical creation is "clearly seen" throughout our universe (Romans 1:20), and the Discovery Center is a powerful way ICR is getting the word out. Our volunteer team makes this crucial learning experience personal for each and every guest.
Without Jon and Kerry's faithful service—and the dedication of many others like them who give their time, energy, talents, and other resources—ICR's ministry would not be possible. We are thankful for all of you who partner with us, whether through volunteering, praying, donating, or anything else you do as part of the work we're doing for the Kingdom.
If you live in the Dallas/Fort Worth area and are interested in ICR's volunteer program, please send an email to volunteer@ICR.org for more information about getting involved. We look forward to hearing from you!
* Ms. Pennington is Volunteer Coordinator at the ICR Discovery Center for Science & Earth History.