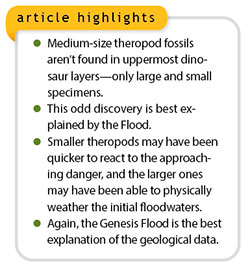 The pattern of fossils in the rock record has always been complex, and the dinosaur fossils maybe even more so. A recent article tried to explain why only small and large-size carnivorous dinosaurs (theropods) are found in Upper Cretaceous rocks.1 Evolutionary scientist Thomas Holtz suggested that juvenile tyrannosaurs may have outcompeted other medium-size dinosaurs, causing their disappearance, although he admitted that there may be another cause.2
ICR has a better explanation. Previously, our scientists analyzed 348 dinosaur species spread throughout the dinosaur-bearing rocks, finding that the average adult was about the size of an American bison, at 1,400 pounds.3 A subset of 152 species of theropods was also analyzed.3
Dinosaurs first appear fully formed and suddenly in Upper Triassic Flood layers. Theropods buried at this level were mostly small, averaging only 117 pounds.3 Higher in the Middle Jurassic, theropods achieved an average of 1,415 pounds and then 1,228 pounds in the Upper Jurassic, where allosaurs were buried.3 Theropods buried in the overlying Lower Cretaceous rocks maintained this average of 1,215 pounds.3 Finally, in the uppermost dinosaur-bearing units (Upper Cretaceous), theropods reached their highest average of 1,883 pounds.3 This was when tyrannosaurs were buried in the Flood. Even though the overall averages tended to increase upward, we still found that there were small theropods mixed throughout all of the dinosaur-bearing units. This is what Holtz also found for the Upper Cretaceous—small and large theropods only.1
What happened to the medium-size theropods in the Upper Cretaceous layers? Why only small and large theropods? Young, medium-size tyrannosaurs should have left fossils too. But Holtz never addressed this point.
Here's where Noah's Flood helps explain this unique occurrence. At least three factors likely helped determine the burial position for dinosaurs in the Flood: 1) elevation of their pre-Flood habitats, 2) mental attributes (reaction to danger), and 3) physical attributes (mobility and size).4 All dinosaurs lived in a pre-Flood lowland environment, but there may have been some elevation differences that factored into their burial.5 However, for the theropods, bigger factors were probably intelligence and size.
Theropods had the largest brain-to-body ratios of any dinosaur kind. Many had brains up to 1.8 times the size of a comparable-size lizard.6 Theropods known as coelurosaurs (the "raptors") had brains about 5.8 times a comparable-size lizard.6 The larger brain of the generally smaller-size coelurosaurs may have heightened their senses and allowed a faster reaction time to danger. This may be why we find small theropods still surviving until the highest Cretaceous layers. But what happened to the medium-size ones?
It may be simply because larger animals were able to resist the rigors of the turbulent and advancing floodwaters a bit longer. Most medium-size theropods didn't have the mobility or brawn of adult tyrannosaurs. Therefore, in the uppermost dinosaur-bearing rocks we find small, intelligent theropods and also large, mobile ones. The majority of the medium-size theropods were buried earlier in the underlying layers.
Evidence for the global Flood is readily discernible in the patterns of theropod burial. Secular stories about juvenile tyrannosaurs out-competing other medium-size theropods are unsatisfactory because no fossil evidence supports them. Instead, the Flood offers the best explanation for the size discrepancy.
References
Holtz, T. R. 2021. Theropod guild structure and the tyrannosaurid niche assimilation hypothesis: implications for predatory dinosaur macroecology and ontogeny in later Late Cretaceous Asiamerica. Canadian Journal of Earth Sciences. 58 (9).
When Tyrannosaurs Dominated, Medium-sized Predators Disappeared. University of Maryland new release. Posted on cmns.umd.edu June 17, 2021, accessed June 22, 2021.
Clarey, T. L., and J. P. Tomkins. 2015. Determining average dinosaur size using the most recent comprehensive body mass data set. Answers Research Journal. 8: 85-91.
Snelling, A. A. 2014. Paleontological issues: Deciphering the fossil record of the Flood and its aftermath. In Grappling with the Chronology of the Genesis Flood. S.W. Boyd and A. A. Snelling, ed. Green Forest, AR: Master Books, 145-185.
Clarey, T. L. 2015. Dinosaur fossils in late Flood rocks. Acts & Facts. 44 (2): 16.
Lucas, S. G. 2007. Dinosaurs: The Textbook, 5th edition. New York: McGraw Hill Higher Education.
* Dr. Clarey is Research Scientist at the Institute for Creation Research and earned his Ph.D. in geology from Western Michigan University.