Each year, the Institute for Creation Research sponsors the Jacksonville Pastors Conference held at First Baptist Church in Jacksonville, Florida. ICR board member Dr. Mac Brunson is senior pastor at FBC Jax and continues to impact pastors from around the country through this significant gathering of pastors who seek to be refreshed and renewed with solid biblical teaching from some of the nation's most outstanding Christian leaders.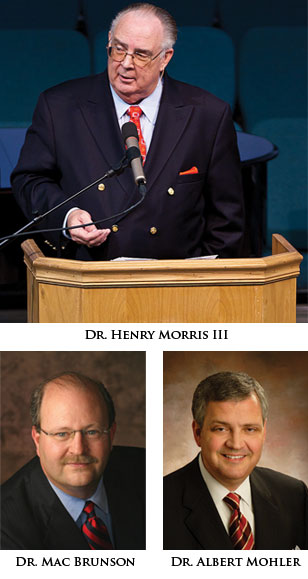 The 2012 Pastors Conference will be held January 26-29 and will feature outstanding speakers, uplifting music, and a full schedule of workshops and seminars to enrich pastors and their families.
As a special addition to this next conference, ICR CEO Dr. Henry Morris III will present a four-part seminar series titled "Teaching Through Genesis," the subject of Dr. Morris' upcoming book. A former pastor himself, Dr. Morris understands the needs of pastors when tackling tough biblical and theological subjects. During the "Teaching Through Genesis" series in Jacksonville, pastors will hear the following presentations:
Seminar 1: Teaching Through Genesis—An Overview
Seminar 2: Theological Questions in Genesis
Seminar 3: Genesis and the Gospel
Seminar 4: Worldview Issues in Genesis
Not only will these seminars be practical, but Dr. Morris will be joined by Dr. Brunson and Dr. Al Mohler for a pastors' Q & A during Seminars 2 and 3. Dr. Mohler is President of The Southern Baptist Theological Seminary in Louisville, Kentucky, and was the keynote speaker at ICR's 40th anniversary celebration in 2010.
To find out more or to register for this event, visit www.jaxpastorsconference.com. What a great gift this conference would make for your pastor!
Cite this article: 2011. "Teaching Through Genesis" to Be Featured at Pastors Conference. Acts & Facts. 40 (12): 7.