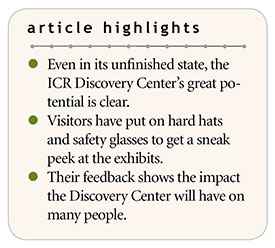 Nearly a year has passed since work began on the internal exhibits of the ICR Discovery Center for Science and Earth History. Our lifelike animatronic T. rex was the first major installation in April 2018, and many additions have been made since then. It's been my privilege during this time to lead dozens of tours for local supporters, potential donors, and special guests. From the feedback they've given, it's clear this remarkable facility will have a great impact on many people for the Lord and His Word. Their notes are a great blessing to me, and it's my pleasure to share some recent favorites.
Here's an encouraging note from a generous supporter from Houston: "'Henry the Fifth' [our T. rex] is AWESOME, and my wife and I are so excited about the progress! ICR has had a profound impact on both of our lives…and we are now even more amazed and thankful for what ICR is building for the public. With great delight, we offer this gift toward the ICR Discovery Center. May it be used to showcase our Creator's handiwork and bring many to Him."
Long-time partners in Washington had this to say: "The Discovery Center is absolutely fantastic! We've visited most creation museums in the USA, both big and small, but none of them rise to the level of quality you folks are doing. (Who knew you could carve concrete like that? Wow!) God bless you for the work you are doing. We've got ICR's back, both financially and in prayer."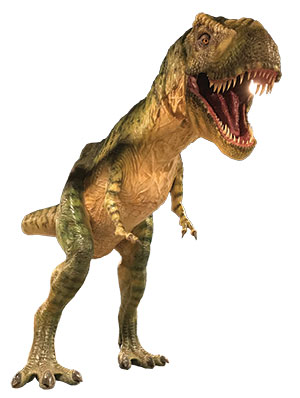 From friends in Florida: "Your approach is unique and quite impressive. Frankly, none of us knew there was so much evidence that supports the Bible, and you present it in creative, engaging, and entertaining ways without 'preaching.' The gospel exhibit at the end [hologram of the returning King of kings] especially brings joy to our hearts, and we hope to partner with ICR soon."
A supporter who works in construction wrote: "I have 30 yrs in this industry, so I know a thing or two about quality craftsmanship. The Discovery Center is truly top-notch….Kudos to ICR for contracting with the best. This is a magnificent facility! You are in our prayers as you work to finish it….We know how difficult the 'last mile' can be. Keep up the great work for God."
A group of visiting pastors responded: "God bless you, brother Morris, for the marvelous tour last night! Your enthusiasm for the science that confirms God's Word is contagious, and your challenge to preach the truth of creation from our pulpits was both motivating and convicting. We are excited to share this amazing project with our church families back home. May God use ICR to reach many lives for eternity."
Finally, from the entire staff of a small creation museum in the Midwest: "We just wanted to let you know that everyone is still talking about the tour you gave us and how much it impacted them. Your hospitality was tremendous. Thanks again for taking the time to accommodate us. ICR is truly a blessing, and the ICR Discovery Center is simply the best!"
The ICR Discovery Center will have a great impact on many people for the Lord and His Word.

It's my hope these wonderful testimonies will inspire our supporters—as well as encourage new ones—to keep on praying and giving as the Lord leads. God has used ICR's ministry to bless many people over the last 50 years, and our new Discovery Center has the potential to reach even more with the truth of creation and of our Creator, the Lord Jesus Christ. Please prayerfully consider joining with us. Your earthly investment with ICR today will impact lives for eternity.
* Mr. Morris is Director of Operations at the Institute for Creation Research.