ICR's School of Biblical Apologetics (SOBA) is now in its third year of training leaders in biblical education and apologetics. Using an online format, SOBA is reaching students around the world. One such student is Lucien Tuinstra, a believer in Scotland who grew up in the Netherlands and who is now a product support engineer in the United Kingdom. Lucien was introduced to creationism early in his Christian life:
Not long after becoming a Christian, an American friend told me about dinosaurs in the Bible and [that] science [was] not directly opposed to Scripture, and I was very interested….Shortly after that, a man who lived in Switzerland but every now and again visited the International Church of Barcelona [where I attended] sent me a link to ICR.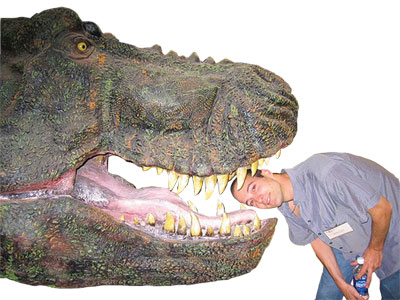 Through the process of exploring ICR's website and ordering materials, Lucien found his way to other creation sites. "After studying this truthful information more, I knew I wanted to be involved in creation research/ministry."
Lucien first studied through the ICR Graduate School, planning to obtain his M.S. in Science Education. He transferred to SOBA's program and has already used the information from those courses in his apologetics teachings at his church in Scotland. Lucien's job occasionally brings him to the United States, and he has spent time at ICR during those visits.
On a recent ten-day mission trip to Russia with a retired pastor from his church, Lucien leaned on his SOBA training in efforts to reach out to others. He spent the very first night discussing the age of the earth with their host. "We went at it (in a Christ respecting manner) for over an hour, and I think the quote from Exodus 20:11 ['For in six days the Lord made heaven and earth, the sea, and all that in them is, and rested the seventh day: wherefore the Lord blessed the sabbath day, and hallowed it'] resonated with him, although he is still not convinced."
Lucien also met with a biology professor at one of the universities in Novosibirsk (in the southwestern area of Siberia) who is "a Bible-believing creationist and is not afraid to tell others about his beliefs." This professor is a leader in his church, along with Lucien's host. He is able to speak "openly with students about his faith, able to counter some of the atheistic teaching that evolution brings with it." In another meeting, Lucien presented evidence for a Creator to a student group, which then discussed the creation/evolution controversy.
Activities like Lucien Tuinstra's trip to Russia can be matched to assignments at SOBA. For each SOBA course, a student must complete an applied learning project that utilizes the information taught in the coursework. The learning project may be as simple as showing an appropriate DVD and discussing it with children, or it could be as involved as a mission trip—almost any project that applies God's truth in practical ways.
SOBA provides both graduate and bachelor-level training for those interested in creationism and the biblical worldview. Its convenient online degree program offers a Masters of Christian Education with a joint major in Biblical Education and Apologetics. In addition, a bachelor completion program is available for those who have not yet received their bachelor's degree from another institution. The courses are self-paced and may be started at any time during the year.
Those interested in ICR's School of Biblical Apologetics can find additional information at www.icr.edu. Or contact Mary Smith at msmith@icr.edu or 214.615.8322.
* Mrs. Smith is Registrar and Academic Coordinator for the School of Biblical Apologetics at ICR.
Cite this article: Smith, M. 2012. SOBA Student Profile: Lucien Tuinstra. Acts & Facts. 41 (5): 22.