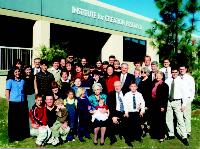 Please allow me to deviate from the normal "President's Column" subject matter to discuss something closer to home, that of the sixtieth wedding anniversary of my parents Henry and Mary Louise Morris. Married on January 24, 1940, the anniversary was celebrated on the weekend of Christmas so that all could attend. And a celebration it was, less for the many accomplishments which have stemmed from their ministry, but for the treasured spiritual heritage which has flowed from their hearts and godly examples.
The three days of family "reunion" included several informal gatherings, but focused on a Sunday morning "church" service, held in the ICR facilities, complete with singing, special music, testimonies of God's grace and blessing, a challenge from Dr. Morris and a communion service led by Pastor Henry Morris III. Many tears of joy were shed as precious memories and insights were shared.
The entire, extended family gathered for this momentous weekend. Dr. and Mrs. Morris had six children and all except Andrew, now with His Lord, were present. Present also were the six spouses, the 17 grandchildren, 4 spouses, and the seven (and counting) great-grand children. This prompted Dr. Morris to wonder if ICR should be renamed the Institute for Pro-Creation Research.
All told, twenty of the 42 family members have played roles in ICR and/or its sister school, Christian Heritage College, including current ICR President, Dr. John Morris, Mr. Don Barber, ICR Systems Administrator and husband of Rebecca, and Dr. Henry Morris III, frequent speaker at ICR seminars. More important, each family member has professed faith in Jesus Christ as Savior, and each family is founded on the precepts of God's Word.
It is also significant that their six children have acquired 15 college degrees between them, including four doctorates. Four of the grandchildren have graduated from college and four are currently enrolled in college.
Dr. Morris maintains a very active role at ICR, as full-time President Emeritus. His pen is as productive as ever, and his wisdom treasured. Please join the ICR faculty and staff in praying that God will grant him many more years of fruitful ministry both in ICR, and as "patriarch" in his family.