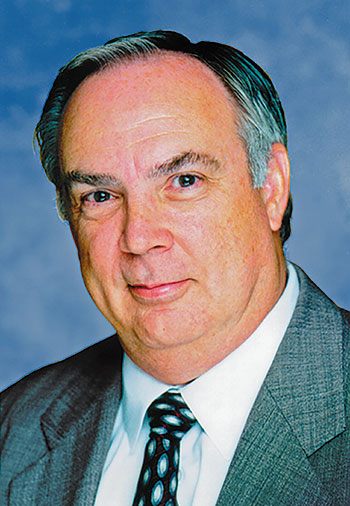 The Institute for Creation Research's CEO, Dr. Henry M. Morris III, went to be with his Lord on December 12, 2020. After years of faithful service, Dr. Morris, known warmly around the office as Dr. Henry, was planning to retire from his leadership position that same month. In preparation for his retirement, we included a tribute article about him in the December 2020 issue of Acts & Facts and created a video of some of the ICR staff and Board of Trustees members sharing stories and expressions of appreciation.1
Since Dr. Henry's homegoing, we have continued to reflect on his life and legacy, and three powerful attributes stand out: his love for God, his dedication to upholding the accuracy and authority of the Scriptures, and his tireless efforts to encourage Christian believers to stand firm in a culture of compromise.
Whether he was writing articles, devotionals, and books, teaching his Genesis class at church, speaking at creation conferences, leading ICR staff, or planning exhibits for the ICR Discovery Center for Science & Earth History, his message remained the same: Love God. Believe the Bible. Stand Firm. We praise the Lord for his faithful witness and investment in the work of the Kingdom!
Although the full impact of his legacy cannot be known on this side of heaven, we'd like to share portions of some of the many letters, emails, and social media posts we've received from people around the world who were touched by Dr. Henry's ministry.
Reference
In Loving Memory of Dr. Henry M. Morris III. Institute for Creation Research. Posted on ICR.org December 12, 2020. Go to ICR.org/H3tribute for excerpts from the tribute article and a link to the retirement video ICR produced before Dr. Morris' passing.
I read many of his Days of Praise devotionals in the mornings and always read Acts & Facts cover to cover! What would the church be like if not for the Morrises and men like them? They worked hard and finished well. Well done!...My family and I are eternally grateful for the work of Henry Morris III. — J. S.
I wish I could share just how much the devotionals and his Acts & Facts articles have helped me to grow in my faith. Only the Lord knows. I can't count the number of times I had been thinking about a particular doctrine in Scripture or desiring a deeper understanding of God's Word and opened my email to the Days of Praise to find that that particular devotional spoke directly to what I had been meditating on....I thank God for his great leadership at ICR and am amazed at how the Lord used him to help build the Discovery Center, which no doubt has enriched many lives and will enrich many more to come, I'm sure. — S. T.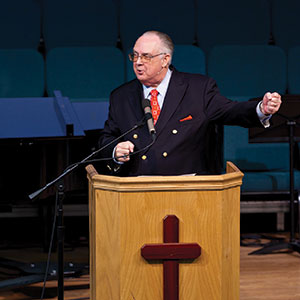 We had the privilege of knowing Dr. Henry personally, of learning from him and seeing the man of God example he set. He was always a blessing to us, and it meant so much when he took time for us. He will be greatly missed. — K. W.
I am sitting here, crying….Dr. Henry M. Morris III was very loving and kind. He, like his father before him, loved the Word and had a deep love for creationism. I was led to the Lord via creationism. This just breaks my heart, but I also know that he is no longer in pain and is walking and talking with our Lord Jesus, the Christ. Condolences and comfort go out to his family and all his loved ones. And also to those who loved him like I did. I am going to really miss him. — C. S.
I'm just one of thousands who have never met Dr. Morris but have been profoundly ministered to by his work. I thank God for his life and know that he is rejoicing with his Lord and Savior now. Praying for his family. — K. H. W.
This makes me so sad. He was my [professor at Christian Heritage College] when I was a student '75-79. He taught us how to study God's precious Word using the Strong's Concordance. His entire family was greatly beloved by students and staff alike. There was great rejoicing in heaven at his arrival. — S. S. L.
I have read his books over the years and been blessed with an opportunity to meet him in person in 2016 at a conference in San Diego. He was truly a prolific writer and defender of the gospel message, taking his readers back to the foundation of the Genesis account. He will truly be missed in the temporal world but welcomed to his new home with his heavenly Father. God bless Dr. Henry M. Morris III and his entire family. — M. S.-D.
[We] remember meeting with Dr. Henry at his home in 2005 when he revealed his vision for Dallas as the base for [ICR's] ministry. I was so impressed with his warmth and genuineness. Later we attended the classes he taught at First Baptist Church. His engaging smile reflected the joy of his walk with our Savior, and we will miss him greatly. — S. B.
Thankful for his bravery in the midst of so many who don't believe in the creation of this world. Prayers and condolences for the family and friends. — V. R. M.
He and his father influenced me in a big way when I went to work for them in El Cajon in 1976....My life is rich in Christ because of their godly examples and encouragement. May the Lord bless and comfort Jan, Henry, and Scotta in the days ahead. I'm praying for you all. — G. S.
What a powerful legacy he leaves behind! I can't tell you how many times I have referenced his work, promoted the websites and links, and encouraged others to do the same. I'm sure it was a glorious homecoming too. — D. D.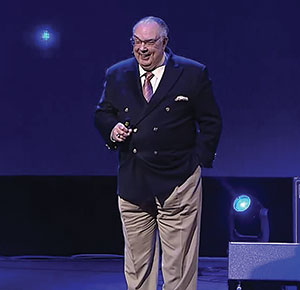 I have nothing but respect for this man and the work he and ICR have done for the Kingdom of our Lord Jesus Christ! Standing strong with ICR to continue their work against the mainstream academic dogma that permeates the thinking of our generation! Thanking Dr. Morris III for his brave and courageous stand for truth. — T. D.
It was an honor to have heard him speak at the Family Radio conference in Mission Springs as a teen....I got to take my youngsters and husband to hear him again a few years back. May God comfort his loved ones, and may his legacy bless many. — L. A. D.
We looked forward each month to his contributions to our daily devotions. We rejoice that he is now home with his Lord and Savior. We were tremendously blessed by his faith and service to Christ and ICR. May the Lord comfort his family. — B. B.
Have such respect and appreciation for the service he has given in presenting truth and evidence for God's creation. May God comfort his family and the ICR ministry team. — E. H.
I bought so many of his books for our library at Oakland Christian School. I never had to be concerned about content, I knew it would speak truth. His entrance into heaven had to have been amazing. We will celebrate him HOME. — L. P.  A.
We are blessed by Dr. Morris's legacy and by all of those who continue at ICR. God certainly endowed Dr. Morris with the faith that moved mountains! — M. M. G.
Happy he is with Jesus, but what a loss for us all. The wisdom he has passed on to us, through study of God's Word, has been foundational in my own growth. — M. H.
Dr. Morris was a wonderful, godly man whose influence will last for generations to come. May the peace and comfort of God be with his family, friends, and those who remain to preserve his legacy of spreading the truth concerning biblical creation as a cornerstone of Christian doctrine. — P. R.