There is a way that seems right to a man, but its end is the way of death. (Proverbs 14:12)
During January–March 1912, Captain Robert Scott and four other optimistic members of the British Antarctic Terra Nova Expedition braved the bitter-cold summer weather of Antarctica's Ross Ice Sheet, hoping to be the first to discover the South Pole. Another hope of his team's quixotic quest was to acquire early-development-stage emperor penguin (Aptenodytes forsteri) eggs for marshaling scientific evidence trying to prove the so-called "law" of phylogenetic recapitulation, which holds that embryos reflect the stages of their evolutionary past as they develop. Many assumed this theory, championed by Ernst Haeckel and Charles Darwin, would provide the missing mechanism for justifying Darwin's natural selection theory.1
It was Captain Scott's second—and last—expedition to Antarctica. One survivor, Apsley Cherry-Garrard, called it "the worst journey in the world."1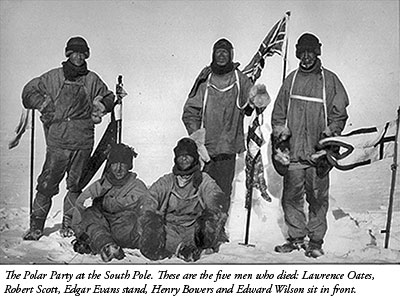 It was beyond disappointing for three reasons: 1) Roald Amundsen's Norwegian Fram Expedition exploration party beat the Brits to the South Pole by about a month, reaching it on December 14, 1911; 2) Scott's team of five froze to death in the wild weather of Antarctica's Ross Ice Shelf near the end of March 1912, about 150 miles from their base camp; and 3) to the disappointment of Scott's chief science officer, Edward Wilson (who died with Scott), the penguin eggs refuted Haeckel's "law" of recapitulation.1,2
Although the research venture was hoped to support Darwin's natural selection theory, the cold, hard facts refused to cooperate. This surprise—to evolutionists but not to creationists—is summarized by BBC reporter Megan Lane as follows:
Of the 2,000 specimens of animals collected by Scott and his team—400 of which were newly discovered—the jewel in the crown was a trio of Emperor penguin eggs. It was hoped [by Darwinism supporters] that these would provide long-awaited proof of Darwin's theory of evolution.
At the time, it was thought [by evolutionists] an embryo passed through all [phylogenetic] stages of its species' evolution as it developed. And as the [British evolutionists] assumed the flightless Emperor penguin to be the world's most primitive bird, they hoped the embryos in these eggs would show the link between dinosaurs and birds.
The birds had been seen before, but never with their eggs. "It was the greatest biological quest of its day," says polar historian David Wilson, whose great-uncle, Edward Wilson, was Scott's naturalist. "Then they collected the eggs, and all the theories turned out to be wrong."3
Amazingly, against all the real-world evidence, like the three penguin eggs Wilson and the others died for, the "dinosaur-to-birds" fairy tale is still being fabricated and falsely advertised a century later1 through science fiction movies like Jurassic Park and Jurassic World—and even in research laboratories that commit evidence spoliation with dinosaur DNA data.4
Like the fictional windmill-tilting Don Quixote, evolutionists can be dream-driven diehards. But, for those who risk their lives and fortunes trying to prove Darwin right and Genesis wrong, the pipe dream—in the end—becomes a nightmare of cold reality.
References
* Dr. Johnson is Associate Professor of Apologetics and Chief Academic Officer at the Institute for Creation Research.