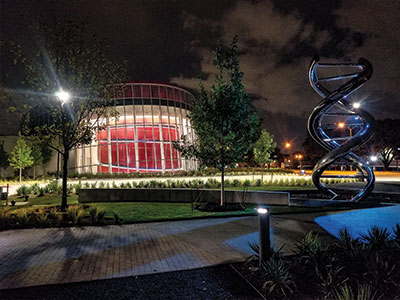 Before reopening the Discovery Center after the mandatory shutdown due to COVID-19, we took the opportunity to make some improvements to our facility. We installed monitors to help us provide the most up-to-date information on our featured shows and live presentations. We also incorporated some new footage in the Origin of the Universe and The Returning King films.
The Origin of the Universe exhibit is often a guest favorite. In this theater, visitors journey back to the dawn of time to marvel at the size, complexity, and youth of the universe, learn faith-building facts about astronomy, and watch the Genesis creation week unfold in a stunning multimedia presentation.
Readers of ICR geologist Dr. Tim Clarey's new book, Carved in Stone, will enjoy seeing his multi-continent rock research on display using a 48-inch Omniglobe projection system in the Flood exhibit hall. The globe demonstrates the transformation of Earth through each phase of the global Flood. After learning about this catastrophic event, guests then board the Ark, where they'll get a sense of what life may have been like for Noah and his family.
We invite you to bring your family and friends to the Discovery Center to journey through Earth's history from a biblical perspective, explore the wonders of God's creation through stunning planetarium shows, and shop for creation science resources in our Discovery Store! We're confident you'll enjoy your visit. Here are just a few of the enthusiastic comments we've received:
We enjoyed everything and look forward to returning many times. We purchased a Family Premium [Membership] package so we can take our grandchildren over and over. That's convenient as well because we won't stay as long each visit, allowing them to fully experience one area at a time without getting too tired. Praise God for all this wonderful and factual research! — S. H.
This is a well-thought-out museum that provides compelling scientific evidence confirming creation as recorded in the Bible. — B. H.
State-of-the-art technology, fantastic speakers, and the attention to detail on the exhibits was very impressive. Our homeschool group had an absolute blast and spent 4½ hours exploring the center. As a mom I appreciated that it appeals to all ages and held the kids' attention. We are so thankful to have this in our city and are excited to visit again with our membership! — S. W.
Amazing! The center surpassed my expectations. It was so well done and affirmed creation and a Creator. — S. W. H.
What an amazing experience! The facilities were top notch and the content was thought-provoking. Would highly recommend a visit for believers and non-believers. Come with your questions and be prepared to be challenged! — B. S.
*The ICR Discovery Center reopened with new hours of operation, limited occupancy, specialized cleaning protocols, and social distancing measures in place. Due to the Dallas County court order, guests age 3 and older must wear a mask inside the Discovery Center. Learn more at ICRdiscoverycenter.org