Near the beginning of Christ's ministry, He taught us a profound principle: "Ask, and it will be given to you; seek, and you will find; knock, and it will be opened to you. For everyone who asks receives, and he who seeks finds, and to him who knocks it will be opened" (Matthew 7:7-8). What a remarkable and powerful statement! But is this a blanket promise with no conditions, or are Christ's words to be understood in light of other revelation?
In context, Christ was specifically instructing His disciples about God's desire to give good things to His children. Sadly, some today have misconstrued Christ's words. This great promise is not a divine blank check given to everyone, nor is God some sort of "cosmic genie" who exists to grant our every whim.
This great promise is not a divine blank check given to everyone, nor is God some sort of "cosmic genie" who exists to grant our every whim.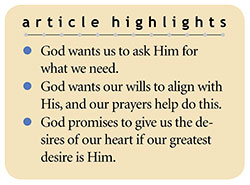 God will not fail to "give good things to those who ask Him" (Matthew 7:11), but He also will not give bad or injurious things, no matter how fervently we want them. And herein lies a condition to this great promise: what we ask for must be good in God's eyes, not ours.
In the complementary account in Luke 11:9-12, Jesus used several purposely absurd analogies to drive home His point: no good father, earthly or otherwise, would ever give his child anything harmful. The child might be frustrated or unhappy when he doesn't receive exactly what he asked for. But when the child asks for something the father knows is beneficial, he will happily provide it because he loves his child. As such, the best gift our heavenly Father can give us, aside from salvation through Christ, is the gift of "the Holy Spirit to those who ask Him" (Luke 11:13). The Holy Spirit, as our teacher and helper (John 14:26), will guide us in understanding what God considers good and cultivate in us a desire for what He wants for us. Thus, our prayers work to align our "asks" with God's "good"!
Prayer is a tremendous resource, but it can be neglected or even misused by some Christians. This is certainly nothing new, as we see in James' counsel to first century believers: "You ask and do not receive, because you ask amiss, that you may spend it on your pleasures" (James 4:3). But as long as nothing stands between us and the Lord (e.g., selfish motives, sin, unbelief, etc.), He has promised to act when we ask by giving us our request—or something far better. Not only does God promise to give good things to us, at our request He will also give us wisdom, joy, pleasure in His commandments, and many other precious things (James 1:5; John 16:23-24; 1 John 3:22).
Perhaps the most important condition of all is that we "ask according to His will" (1 John 5:14). If we are abiding in God's commandments, thinking His thoughts, focused on His priorities, and asking in faith and in Jesus' name, our desires will align with God's will. Then we have "the confidence that…He hears us" and will grant "the petitions that we have asked of Him" (1 John 5:14-15).
ICR's ministry is a marvelous testimony to these wonderful promises of God. For nearly 50 years, God has not only supplied our financial needs, He has also granted us wisdom in our decisions, joy in good times and bad, and pleasure in His Word as we have sought His will.
The Lord certainly hasn't given ICR everything we've asked for—far from it. But we've learned to rest in His timing and His answers. We are thankful for our readers and supporters who faithfully lift ICR up in prayer, asking God for His blessing, provision, and protection on our ministry while He tarries.
* Mr. Morris is Director of Donor Relations at the Institute for Creation Research.