"How long wilt thou forget me, O LORD? for ever? how long wilt thou hide thy face from me? How long shall I take counsel in my soul, having sorrow in my heart daily? how long shall mine enemy be exalted over me?" (Psalm 13:1-2)
David expresses deep anguish in these two verses. The question "How long" is repeated with ever-increasing intensity. In poetry this is called an anaphora. David begins by asking Yahweh, "How long wilt thou forget me…for ever?"
If being eternally forgotten isn't disconcerting enough, the second question expresses despair in an unplumbed way—the hiding of Yahweh's face with the feeling of intimacy's loss. God's servant now argues from the internal, unveiling the deep wounding effects in his inner soul as his enemy gloats over his proverbial dead body.
In verse 3 David demands (in the Hebrew imperative) that Yahweh consider, hear, and lighten his eyes. The psalm that began in a hopeless cry now takes a dramatic 180° turn, viewing life through the divine lens of God's sovereignty. Verse 5 states, "But I have trusted in thy mercy; my heart shall rejoice in thy salvation." What changed? Absolutely nothing—except for David's view of sovereign Yahweh.
Did God ever look away from David? No. If you are in Christ, does God ever ignore His children? Absolutely not! This psalm gives us permission to cry out to Yahweh, venting all our frustrations and petitions to Him. Besides this, our Lord teaches us to cling tightly to the promises spelled out in His precious Word, namely His amazing attributes of forgiveness and steadfast love.
Furthermore, all of God's paths, even the troubled ones described in this psalm, are steadfast love to those who are protected under the precious wings of our Lord Jesus Christ. CM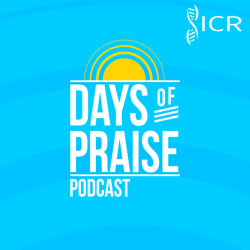 Days of Praise Podcast is a podcast based on the Institute for Creation Research quarterly print devotional, Days of Praise. Start your day with devotional readings written by Dr. Henry Morris, Dr. Henry Morris III, Dr. John Morris, and others to strengthen and encourage you in your Christian faith.