"...to know the love of Christ which passes knowledge; that you may be filled with all the fullness of God." (Ephesians 3:19)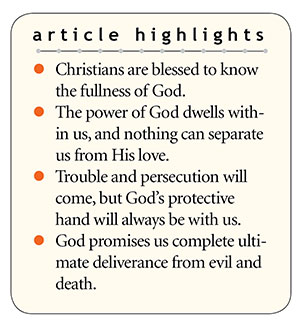 The United States of America is one of the few countries in the world that mark an official day of Thanksgiving honoring the omnipotent and omniscient God of the Bible. We still have "In God We Trust" as our country's motto, and although our nation's leaders have been steadily slipping away from the bedrock faith of our founding fathers, this country is still the envy of the free world, and millions long to live here.
One of the things those of us who are twice-born can be particularly thankful for is the promise that we can come directly into the presence of the living God with confidence (Ephesians 3:12). That bold confidence is based on no other fact than "there is therefore now no condemnation to those who are in Christ Jesus" because "the law of the Spirit of life in Christ Jesus has made me free from the law of sin and death" (Romans 8:1-2). And with that freedom, we have the opportunity to know "all the fullness of God." Let's look at some of the blessings that are ours as believers in Christ.
Full Persuasion
Since the result of my salvation is nothing less than becoming a new creation (2 Corinthians 5:17) that's created "in true righteousness and holiness" (Ephesians 4:24), I can be absolutely sure ("persuaded") that nothing is able to separate me from God's love (Romans 8:38-39). Paul reiterates that all we are and have is securely safeguarded by our Savior: "I am not ashamed, for I know whom I have believed and am persuaded that He is able to keep what I have committed to Him until that Day" (2 Timothy 1:12).
The word Paul uses for "know" (Greek i'do) emphasizes mental understanding rather than experience or intuition. Coupled with the word for "persuasion" (Greek peitho), it provides double assurance of what Paul promises. Because we know the One in whom we have believed, we have a full persuasion of our security in Him.
Full Blessing
Before the world began, the Lord Jesus Christ "blessed us with every spiritual blessing in the heavenly places" (Ephesians 1:3-4), ensuring that His precious saints hold an unalterable "adoption as sons" secured by nothing less than the "good pleasure of His will" (Ephesians 1:5). Furthermore, "He has made us accepted in the Beloved," abounding His grace "toward us in all wisdom and prudence" (Ephesians 1:6, 8).
So secure are these blessings that none other than God our heavenly Father has decreed that He will "gather together in one all things in Christ" (Ephesians 1:10), assuring that those who are in Christ will receive "an inheritance, being predestined according to the purpose of Him who works all things according to the counsel of His will" (Ephesians 1:11). God provides the full blessing of His acceptance and grace in this life, and the blessing of an eternity with the Lord Jesus in the next.
God provides the full blessing of His acceptance and grace in this life, and the blessing of an eternity with the Lord Jesus in the next.

Full Power
Perhaps one could easily assume that God's fullness would include sufficient power to accomplish the "work of faith" (1 Thessalonians 1:3) that is expected of the twice-born. This is true, but it is nonetheless encouraging to note the broad array of power terms that are allotted to the children of God. We are to be "strengthened [krataioo] with might [dunamis] through His Spirit in the inner man" (Ephesians 3:16).
These word choices defined by the Holy Spirit insist that we will be "growing stronger" with the "inherent power" granted to us at the moment of our salvation—the same glorious power that was demonstrated at the resurrection of the Lord Jesus from the grave (Ephesians 1:19-20). Indeed, this is no mere physical, human power. It is the omnipotent and omniscient "demonstration of the Spirit and of power...the power of God" (1 Corinthians 2:4-5) that comes through the indwelling presence of the Holy Spirit Himself.
Full Love
Of all the summary statements in Scripture, one stands above all: "You shall love the Lord your God with all your heart, with all your soul, and with all your mind" (Matthew 22:37). It surely follows, then, that the fullness of God would involve Christ dwelling "in [our] hearts through faith; that [we], being rooted and grounded in love, may be able to comprehend with all the saints what is the width and length and depth and height—to know the love of Christ which passes knowledge" (Ephesians 3:17-19). In order to experience the full love of God, we need to be fully invested in Him and His Word:
Love is a primary identifier of God's people: "By this all will know that you are My disciples, if you have love for one another" (John 13:35). Because God's love was demonstrated through the substitutionary death of the Lord Jesus while "we were still sinners" (Romans 5:8), we are expected to "have fervent love for one another, for 'love will cover a multitude of sins'" (1 Peter 4:8). We are told that "God is love" (1 John 4:8). It would be impossible, then, to have our "inward man" (Romans 7:22) participate in the "divine nature" (2 Peter 1:4) without showing a full love toward God and toward His people.
Full Trouble
There is a "fullness" topic we don't think about much—the trouble and persecution that come with living a godly life in an ungodly world. "Yes, and all who desire to live godly in Christ Jesus will suffer persecution" (2 Timothy 3:12). Jesus warned that the time will come when "whoever kills you will think that he offers God service" (John 16:2).
The Bible contains many examples of godly men and women who loved the Lord yet were constantly agitated and in danger because of their faithful service to God. The closing verses of Hebrews 11 provide an assessment of those Old Testament saints who gave much in their service to God and yet were subjected to severe trials and persecution. "All these, having obtained a good testimony through faith, did not receive the promise, God having provided something better for us, that they should not be made perfect apart from us" (Hebrews 11:39-40).
They all died looking for and longing for the Messiah to come. We who were born in the millennia since the incarnation have the historical fact of God's Son coming into the world. Our faith should be all the stronger and our commitment all the more firm. Even though troubles will surely come, we should be more able to trust God for the fulfillment of His promises. "For I consider that the sufferings of this present time are not worthy to be compared with the glory which shall be revealed in us" (Romans 8:18). As surely as the reality of God's Son coming into the world, we will also see the day when "God will wipe away every tear from their eyes; there shall be no more death, nor sorrow, nor crying. There shall be no more pain, for the former things have passed away" (Revelation 21:4).
Full Deliverance
In spite of the struggles, frustrations, and pressures that will come with an active life in the service of the King, we have the absolute promise of God's sufficient and complete deliverance from the evils of the day. We don't need to be afraid of those who are evil, because God has assured us that "evildoers shall be cut off; but those who wait on the LORD, they shall inherit the earth" (Psalm 37:9).
We have the absolute promise of God's sufficient and complete deliverance from the evils of the day.

No matter what we face in this life, "the salvation of the righteous is from the LORD; He is their strength in the time of trouble. And the LORD shall help them and deliver them; He shall deliver them from the wicked, and save them, because they trust in Him" (Psalm 37:39-40). Those who revel in the power of evil may prosper for a season, but the final victory has already been accomplished by the Lord Jesus. He is the Alpha and Omega, the beginning and the end, the author and finisher of our faith.
Our Creator, Redeemer, and coming King possesses "all the fullness of the Godhead bodily" (Colossians 2:9). The twice-born are promised "all the fullness of God" (Ephesians 3:19). While we're on Earth we may be called upon to "suffer shame for His name" (Acts 5:41). But knowing that our Lord Jesus "was in all points tempted as we are, yet without sin" (Hebrews 4:15), we can expect Him to "sympathize" with our requests when we "boldly" seek Him on the "throne of grace, that we may obtain mercy and find grace to help in time of need" (Hebrews 4:16).
Full Opportunity
The fullness of God most surely includes "the fullness of the blessing of the gospel of Christ" (Romans 15:29). Paul told the church at Corinth that he planned to come to them soon but needed to remain at Ephesus a few more months because "a great and effective door has opened to me," and with that opportunity came "many adversaries" (1 Corinthians 16:9). Opportunity and opposition seem to be constantly paired in the work that God opens up for His people. Rarely does anything significant in the Kingdom happen without the opposition of the Enemy.
Right now, the "great and effective door" for ICR is the completion of the ICR Discovery Center for Science and Earth History. Many have shared their resources with us to help build this magnificent "door" that will reach tens of thousands of young people and Christian leaders in the days ahead. The Discovery Center is almost complete. The construction is finished, and we are watching the exhibits take shape as we work with the talented craftsmen who are making the unique displays, dioramas, and demonstrations that will use science to confirm that Jesus of Nazareth is none other than the Creator of the universe.
Please join with us in thanking our great God for the faithful supply through His people that enables ICR to continue to reach many with the message that science affirms the authority and accuracy of the Scriptures. Please consider giving some of what God has blessed you with so that this "great door" can be completed without debt of any kind. All the "boasting" (2 Corinthians 11:17) ICR does is to exalt our Creator and Redeemer. When you are able to help us, you can be sure that your help becomes part of ICR's work so that all of us can rejoice together (1 Corinthians 3:8).
* Dr. Morris is Chief Executive Officer of the Institute for Creation Research. He holds four earned degrees, including a D.Min. from Luther Rice Seminary and an MBA from Pepperdine University.