Unlike many researchers working in the field of creation science, I was not raised in a strong Christian background. The occasional trip to some nominal church with my parents—my father, a successful research chemist for a large corporation, and my mother, a school teacher—was simply something we did to round out our social experience. For the most part, my secular upbringing was steeped in evolutionary science and philosophy.
During high school in Vancouver, Washington, I became very interested in biology and especially plant science. My school had an excellent two-year horticulture program, along with a very dynamic teacher who inspired me to continue my science education after graduation. After completing my sophomore year at a small, local college in 1982, I transferred to Washington State University. Biblical Christianity was definitely not on my agenda. However, God had other plans.
Through a set of bizarre diversions and circumstances, and thanks to the bureaucracy of university housing services and the providence of God, I ended up with a Christian roommate in my dorm. He shared the gospel of Jesus Christ with me, and I ended up praying and giving my life to the Lord. Nonetheless, not long after my conversion I began having questions about evolution due to both my upbringing and the college classes I was taking.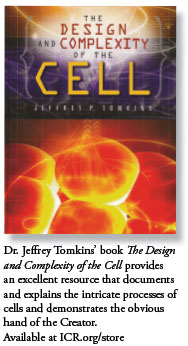 When I first began studying the issue of origins, I acquired literature that attempted to reconcile evolutionary ideas and hypothetical long ages of time with Scripture. However, the material really did not add up biblically or scientifically, and I ended up with more questions than answers. Then I came across the seminal book Scientific Creationism by Henry M. Morris, the founder of the Institute for Creation Research (ICR). After reading this book, I was absolutely elated—everything made perfect biblical and scientific sense. The arguments for creation were thoroughly rock solid. I then began reading other ICR books, especially those by the late biochemist Duane Gish, and was completely hooked.
Regardless of being heavily influenced by these pioneering ICR scientists, never in my wildest dreams did I believe that I would some day be adding to their legacy. When I completed my B.S. in agriculture education, I went on to obtain an M.S. in plant science at the University of Idaho and a Ph.D. in genetics at Clemson University. After working as a post-doctoral scientist in genomics for several years, I became a faculty member in the Department of Genetics and Biochemistry at Clemson University—even running a highly successful genomics institute for five years.
Although in the world of academia, many modern academics claim to be open-minded about origins, evolution is definitely the prominent faith and ruling religion at the majority of universities. Despite the fact that creation science theories best explain the observable scientific evidence, they are typically not well tolerated. Thus, I generally kept a low profile during this stage of my career.

Despite years of remarkable success in research, grantsmanship, publishing, and teaching, I eventually came to realize that my talents would be much better spent working full time in the creation science arena. Taking a huge leap of faith, in 2009 I left my career in secular academics to work at ICR. The rest, as they say, is history. Now I am part of the next generation of ICR scientists leading the charge in proclaiming God's truth through the wonders of science and incredible research discoveries.
*Dr. Tomkins is Research Associate at the Institute for Creation Research and received his Ph.D. in genetics from Clemson University.