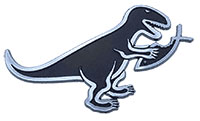 My family and I saw an interesting car emblem while on a road trip. It showed a T. rex-like dinosaur taking a bite out of a Christian fish. This led to a healthy in-car discussion. Does the existence of dinosaurs really take a bite out of Christianity? For those willing to see the right details, dinosaurs actually bolster the Bible.
I tried to crystallize the emblem's core evolutionary message: Since dinosaurs died millions of years before man existed, and since the Bible doesn't include millions of years, then dinosaurs disprove the Bible. This conclusion appears logical, but at least three details challenge the first premise and wreck the argument.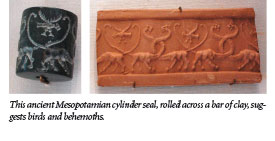 First, what if Bible verses describe a dinosaur? In that case, dinosaurs must have lived much more recently than millions of years ago. The more we study the behemoth of Job 40, the more convinced we become that the passage describes a then-living dinosaur. Uninspired Bible notes suggest it was an elephant or hippo, but the description does not fit either animal. For example, elephants and hippos have their center of mass closer to their shoulders, but behemoth's mass centered over its hips. And neither have tails that look or move like a long tree trunk. Sauropods like Diplodocus balanced upon their hips and swung tree-like tails.
Their side-to-side tail motions when walking even suggest a tree swaying in the wind. Paleontologists have reconstructed sauropod muscles based on their bones' muscle attachment points.1 Large muscles connected their upper legs to their tails, causing the tails to gently sway with each step. Perhaps these muscles match the sinews of Job 40:17: "He moves his tail like a cedar; the sinews of his thighs are tightly knit."
Job 40:18 says, "His bones are like beams of bronze, his ribs like bars of iron." Other translations render the "beams" as bronze "tubes" and his "ribs" as "limbs." This language synchs with sauropods. Fossils show the bones along their spine were mostly hollow, like tubes. Their ribs and limb bones were solid, like bars.
Many have argued that behemoth cannot possibly be a dinosaur because dinosaurs went extinct millions of years before man. But doesn't that simply beg the question of when dinosaurs lived instead of weighing the available evidence?
Second, not only does Job describe a dinosaur, but so do other ancient historical accounts of monstrous serpents. Ancient paintings, mosaics, tapestries, carvings, and moldings from all around the world depict dinosaur look-alikes. These independent eyewitnesses testify that dinosaurs lived not too long ago. From this history-based perspective, dinosaur fossils formed from Noah's Flood only thousands of years ago. And that leads to a final detail.
Third, scientific problems plague the premise that dinosaurs died millions of years ago. For example, dozens of dinosaur and other fossils still retain remnants of their original proteins. Rare cases even include whole tissues, intact and flexible. So far, nobody has found a way to preserve proteins for even one million years—to do so without temperatures like those liquid nitrogen might maintain would violate fundamental physics.2
Dinosaur protein remnants, an extensive history of documented dinosaur encounters, and a dinosaur description in the Bible all refute the premise that dinosaurs died millions of years ago. These three details unveil a new argument: Since history describes dinosaurs, and since the Bible describes dinosaurs, then history confirms the Bible. Now, who's going to invent a new auto emblem to reflect this idea?
References
For example, see the interview with Dr. Marcus Ross in episode two of Uncovering the Truth about Dinosaurs.
Thomas, B. 2015. Original Biomaterials in Fossils. Creation Research Society Quarterly. 51 (4): 234-247.
* Mr. Thomas is Science Writer at the Institute for Creation Research and earned his M.S. in biotechnology from Stephen F. Austin State University.