Dinosaurs in Texas?
On June 5, 2013, over 2,000 dino lovers visited Gateway Church in Southlake, Texas, to hear Brian Thomas of the Institute for Creation Research speak about dinosaurs, the first in a three-part series of creation talks from ICR experts. An estimated 1,000 online viewers also took part in this powerful learning experience.
Several large dinosaur-fossil replicas, provided by Creation Truth Foundation, greeted the attendees in the lobby before the lecture. Fossil replicas also adorned the stage, prompting one of the performers during the worship session to say, "There are dinosaurs on stage. That's just a reminder—God is COOL!"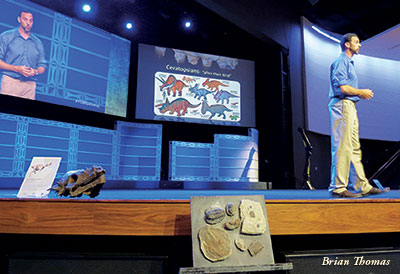 After a warm welcome from the audience, Mr. Thomas delivered a powerful and dynamic talk on dinosaurs and the Bible. From fascinating historical and scientific facts to wacky dinosaur waddles, he captivated the audience with his expert knowledge on the mysterious creatures. He talked about how dinosaurs were not merely the stuff of human imagination, but creatures made by an all-powerful God. Mr. Thomas also presented five clues that confirm the Bible is right about dinosaurs, starting with Genesis 1.
After the talk, one attendee told ICR staff members that she had big questions about dinosaurs when she was younger. But her third-grade teacher told her never to ask questions about them again, and she walked away without any answers. At the Gateway event, however, she said Mr. Thomas answered the questions she had asked and she felt as if a heavy burden was lifted off her shoulders.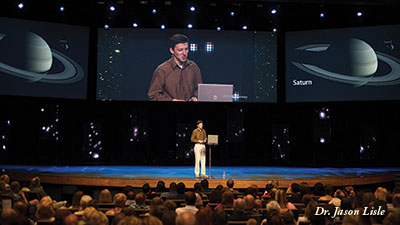 Continuing the series of creation talks the following week, astronomer and ICR Director of Physical Sciences Dr. Jason Lisle wowed the audience with a stunning presentation on astronomy. He addressed the glory of God, basic facts about the universe and its age, the uniqueness of Earth, and the alleged starlight and time problem. The Bible is correct when it addresses each of these areas, he told the attendees. And while the Bible isn't specifically a manual on understanding outer space, it addresses the subject of astronomy where it is absolutely accurate. And although we cannot know for certain whether or not the universe is truly infinite, we can be confident that our God is omniscient and omnipotent.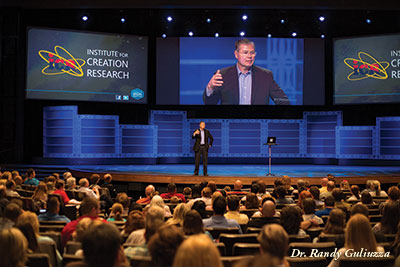 ICR National Representative Dr. Randy Guliuzza, a medical doctor and professional engineer, closed out the series on June 19 with a presentation on special creation, human beings, and the amazing system of human reproduction. He said that the Genesis account is correct when it speaks about God's creation and design of the human body, marriage, and the mandate to fill Earth. The male and female bodies were designed for each other, and their complementary systems are so intricate that they reflect the incredibly complex design power of our Creator.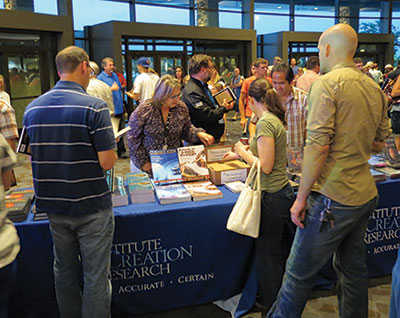 Gateway Equip is a midweek discipleship and learning program for members of Gateway Church. Many different topics pertaining to spiritual growth are offered in these multi-week classes, but this is the first time the topic of creation has been presented to this local body of believers. Much of what the media and education systems tell us about dinosaurs, astronomy, and the human body is based on an anti-biblical, anti-God worldview. As a result, many people have been trained with an evolutionary and long-age worldview that contradicts God's Word. ICR presentations dispelled these myths.
* Mr. Hansen is the Student Community Coordinator for the Institute for Creation Research.
Cite this article: Hansen, M. 2013. Dinosaurs, Stars, and Special Creation at Gateway Church. Acts & Facts. 42 (8): 16-17.