Those who go down to the sea in ships, who do business on great waters, they see the works of the LORD, and His wonders in the deep. (Psalm 107:23-24)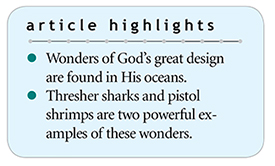 The super-fast and powerful movements of sharks and shrimps are among "the works of the LORD" and "His wonders in the deep." Consider how their body parts and physiologies providentially empower sharks to slap and shrimps to snap.
Slap-Happy Sharks
The pelagic thresher shark (Alopias pelagicus) forcefully slaps his tail underwater to catch its prey. An extra-long tail facilitates this, according to video-camera documentation.
Thresher sharks employed tail-slaps to debilitate [by stunning or killing] sardines at all times of day. Hunting events comprised preparation [including "wind-up" for a tail-slap], strike, wind-down recovery and prey item collection phases, which occurred sequentially.…Tail-slaps occurred with such force that they may have caused dissolved gas to diffuse out of the water column forming bubbles. Thresher sharks were able to consume more than one sardine at a time, suggesting that tail-slapping is an effective foraging strategy for hunting schooling [fish] prey.1
How did the thresher shark get its extra-long prey-slapping tail? Bible-believing Christians recognize that God designed the shark's genetic blueprint, growth, and development, including its tail-slapping capacities that utilize the physiology of its pectoral fins and its extra-long tail.
Evolutionists, however, give credit to a pantheistic process that magically "gives" body parts to animals as they need them to survive. Consider how Dr. Simon Oliver, leader of the Thresher Shark Research and Conservation Project, lauds evolution as the shark's helpful benefactor. Regarding the shark's tail and tail-slapping ability, he says, "Evolution doesn't provide you with something like that unless you intend to use it that way."2
Thus, Dr. Oliver assumes that the mystical-magical process of evolution can read animal minds to "see" if an extra body part or two would be used for survival if "provided" by evolution.
Snap-Happy Shrimps
The pistol shrimp (a.k.a. snapping shrimp) is famous for its powerful and noisy underwater snapping that forcefully stuns or kills prey and scares off predators.
The snapping shrimp (Alpheus heterochaelis) produces a loud snapping sound [>210 decibels, louder than a gunshot] by an extremely rapid closure of its snapper claw.…During the rapid snapper claw closure, a high-velocity water jet is emitted from the claw with a speed exceeding cavitation conditions [with front-end cavitation bubble expansion at 32 m/s, with bubble gas temperature briefly rising to ~5,000°F]. Hydrophone measurements in conjunction with time-controlled high-speed imaging of the claw closure demonstrate that the sound is emitted at the cavitation bubble collapse and not on claw closure.3
The undersea crackling sounds of snapping shrimp populations were used to camouflage the undersea noise of World War II submarines hiding in coral reefs.4 Thus, the snapping shrimp is famous for both its noisy "bark" and its powerful (cavitation-bubble-striking) "bite."
The psalmist reminds us that the "works of the LORD," including "wonders in the deep" like sharks and shrimps, are available to see and appreciate—for those with open eyes. Yet evolutionists, with no empirical or forensic evidence in support, imagine that snapping shrimps were "given" their amazing powers from a mystical-magical-mythical process called natural selection, because "nature" will "provide you with something" if you "intend" to employ that new physiological something for survival.2
But no mix of materialistic accidents can "select" (much less "provide") helpful body parts for a snap-happy shrimp or a slap-happy shark. Rather, the great God who made us (and who offers us redemption) is the Architect and Bioengineer of shrimps and sharks, as well as all of His other works and wonders.
References
* Dr. Johnson is Associate Professor of Apologetics and Chief Academic Officer at the Institute for Creation Research.