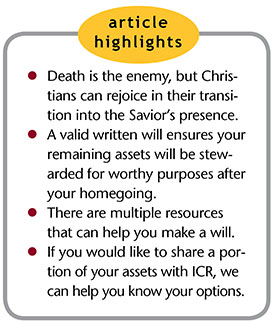 The distinguished Benjamin Franklin once wrote that "in this world nothing can be said to be certain, except death and taxes."1 I've often grumbled about the truth in this statement while wrestling with my tax filings each year. I suspect many of our readers can relate. But taxes can't really compare to death—the first and last great enemy of all mankind (Genesis 2:17; 1 Corinthians 15:26). Death entered the world as a consequence of Adam's sin, and God's once-perfect creation has groaned under the curse of death and decay ever since (Romans 5:12, 8:20-23).
But for those who have been redeemed by Christ, physical death is simply an instant transition into the joyful presence of our Savior (2 Corinthians 5:6-8). No doubt, many of us have experienced the passing of fellow believers, friends, and loved ones. While the sorrow may be heavy at times, with true joy we can celebrate a life lived for Christ and look forward to that great day when He reunites us in heaven (1 Thessalonians 4:13-18). What a blessing!
On such occasions I often find myself reflecting on my own circumstances—a reminder from the Lord, perhaps, to focus anew on things of eternal value. While we live in a material world, the resources God has granted to us should be used for His work if we are to truly honor and please Him. But without proper forethought and planning, the assets we leave behind may not be handled appropriately for God's remaining work on earth.
The most important thing a Christian can do to prevent this from happening is to have a valid written will. Surprisingly, studies have consistently shown that over half of all Americans do not have one. In these situations, state laws of "descent and distribution" take over and a judge decides who will administer your estate and who will serve as the guardian of your minor children—actions which often deplete your estate with unnecessary expenses and may lead to an undesired result. And such state-written wills don't allow bequests of any kind—to your friends, your church, or to ministries that honor the Lord Jesus Christ like ICR.
Scripture teaches a simple model to distribute remaining earthly assets for God's glory:
So, in obedience to the Lord and His biblical model, please make a will if you don't already have one.
ICR's Planned Giving link at ICR.org/donate is a great place to start where you can request helpful brochures and use our interactive modules to plan a well-written will. Most people can use one of the many online will-making programs to produce a legal, state-specific will for less than $100. And if you need expert help, ICR can recommend a knowledgeable attorney in your area. In either case, it's easy to include a simple bequest to ICR that ensures a portion of your assets are shared with our ministry. You can be confident it will be put to good and effective use in our work for the glory of our Creator, the Lord Jesus Christ.
Be prepared for your homegoing. Care for your family. Protect your God-given resources. And share bountifully with God-honoring ministries like ICR. We can help—please visit ICR.org/donate, or contact ICR today at 800.337.0375 or stewardship@icr.org.
Reference
Letter to French scientist Jean-Baptiste Leroy, November 13, 1789.
* Mr. Morris is Director of Operations at the Institute for Creation Research.