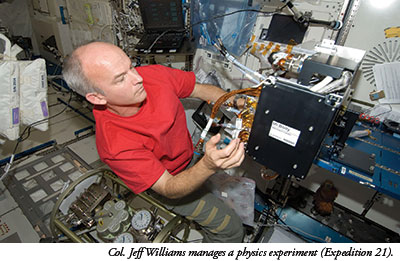 The human body is unique among the living creatures of Earth. It gives us unparalleled abilities to think and invent, and also allows us to perform amazing athletic feats—like climbing Mount Everest or swimming the English Channel. In everything it does, the human body demonstrates God's handiwork of perfectly crafting us for Earth's environment.
Space changes things. On the International Space Station (ISS), ICR friend and NASA astronaut Col. Jeff Williams experiences radical alterations of his body's functions due to the microgravity of low-Earth orbit. The different living environment offers various ways to study the human body and simultaneously helps NASA prepare for its ultimate goal—sending mankind to Mars.
Soon after Col. Williams arrived on the ISS, his body underwent four major changes. First, without gravity's compression, his spine elongated and made him about an inch taller. Second, his heart got slightly smaller. It no longer pushes against gravity and shrinks because of the reduced amount of work the body does. Third, his bones and muscles started deteriorating because he doesn't have to use them to walk or stand. Fourth, the pressurized environment caused his liquid-filled eyeballs to slightly deform.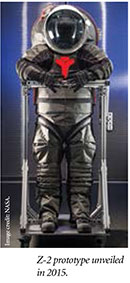 Col. Williams can't do anything about the first two changes, but he can do something about the others. To combat muscle and bone loss, he exercises for two hours every morning using specialized equipment. He can run by attaching stretchy bands to his waist and the floor to keep his feet on a treadmill. Since normal dumbbells simply float around, he uses a hydro-pressured lift for his arm and leg muscles.
To combat distorted vision, Col. Williams wears glasses. Every astronaut's vision changes slightly, but thankfully the ISS provides a wide range of vision-corrective lenses. He tries on a lot of different pairs until he finds one that works.
The lack of gravity not only changes Col. Williams' body but also his lifestyle. For sleeping quarters, he gets a telephone-booth-size room with a laptop and a sleeping bag, both attached to the wall. At "night" (simulated by closing all the windows on the station), he shuts the door and zips up in the sleeping bag.
Eating, of course, is much different than on Earth. Col. Williams eats some things normally, like fruit, but most space food comes in plastic packages that require adding water. You might think this sounds nasty but actually the food is quite tasty! Nutritionists make sure Col. Williams and his fellow astronauts stay healthy and consume as many normal things as possible, such as chicken, beef, seafood, brownies, orange juice, tea, and even coffee!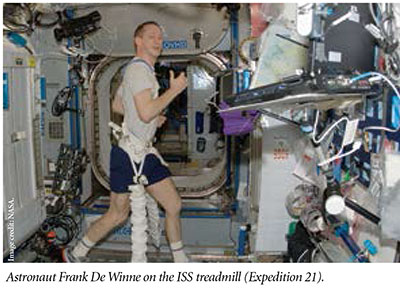 NASA scientists use the unique environment of the ISS to study the human body in preparation for the long journey to Mars. They are also hard at work developing a new spacesuit. Called the Z-2, this suit will offer many new advantages for interplanetary travel. The primary advantage will be a pressurized environment that more closely mimics that of Earth. This will remove the need for a two-hour "pre-breathe" process before spacewalks.1 Also, the suits will attach to the outside of whatever vehicle is in use, eliminating the need for an airlock. With the Z-2, astronauts could respond quickly to emergencies and be spacewalking in minutes.
Space exploration offers many windows into God's creation. We capture breathtaking images of far-away galaxies with high-power telescopes, visit the moon, send probes to other planets, and constantly think of ways to go farther than ever before. Along the journey, we learn more about the beautiful handiwork we call the human body, giving us plenty of reasons to glorify God as our awesome Creator.
Reference
Currently, astronauts need to breathe pure oxygen before going on a spacewalk to get rid of nitrogen, which might cause gas bubbles during their time outside the spacecraft. Like deep-sea divers, astronauts can get "the bends."
Image credits: NASA
* Mr. Billups is an editor at the Institute for Creation Research.