It is to your advantage not only to be doing what you began and were desiring to do a year ago; but now you also must complete the doing of it; that as there was a readiness to desire it, so there also may be a completion out of what you have. (2 Corinthians 8:10-11)
Paul encouraged the Corinthian church to complete a fund-raising project for the needs of their brethren in Jerusalem. He challenged them with the example of the churches in Macedonia, who not only completed their gift but did so despite an apparent inability to provide as much as they did—because "they were freely willing, imploring us with much urgency that we would receive the gift and the fellowship of the ministering to the saints" (2 Corinthians 8:3-4). The Corinthians made a good start about a year before but for whatever reason failed to complete their project.
Although ICR is not in quite the same place as the Corinthian church, there is a parallel in that all of us need to be reminded to "complete the doing of it" before time becomes a master that overwhelms the initial excitement of a project and the vision fades. In that light, I thought I might bring our Acts & Facts readers up to date. I hope you will rejoice with us and continue to pray as we look for the Lord to bring in the remaining funds needed to begin construction and ultimately complete the ICR Discovery Center for Science and Earth History.
Design Status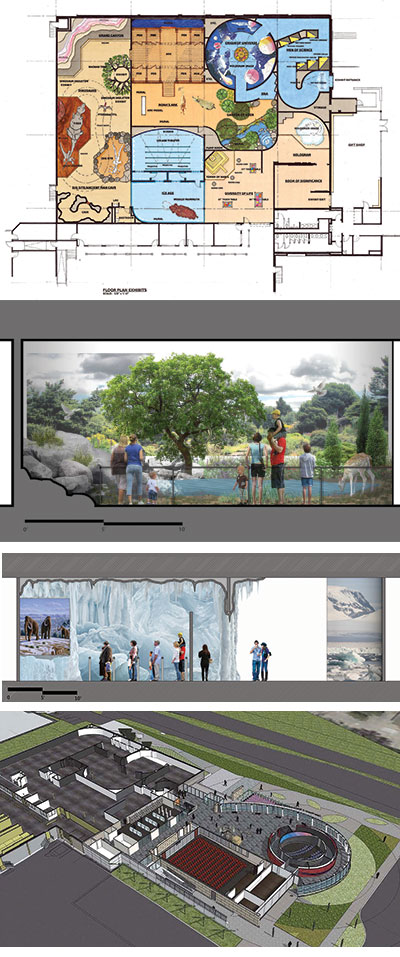 All the design plans are completed. Over the past 15 months, ICR has been in constant partnership with the international Beck architectural firm, which is headquartered here in Dallas. It is widely known and respected and has designed some of the more famous monuments and buildings around the world. The ICR Discovery Center for Science and Earth History will be a stunning building designed to be inviting and attractive—and to last for generations as a premier statement of the beauty and majesty of God's creation.
The exhibits themselves (the heart of the Center) have been designed by the world-renowned Leisure and Recreation Concepts, Inc. group led by Michael Jenkins. They have designed and produced some 1,100 theme parks and other entertainment venues across the world, including the famous Six Flags parks. Michael's unique talents in entertainment and education are a perfect fit to make these exhibits beautiful, exciting, and fun—each with a clear biblical message and commitment to biblical accuracy. It may interest you to know that while the numerous exhibits and information access tools will emphasize how science confirms Scripture, there will be a theme to each of the eight exhibit halls centering on Jesus as the Creator, Sovereign Designer, Promise Keeper, Redeemer, etc.
The exhibits will conclude with a life-size hologram of the Lord Jesus' return (Revelation 19) with the challenge: "He is coming back! What will happen to you when He returns?" This is not a museum for folks to simply come and look at things. We want them to discover and learn the massive amount of evidence that demonstrates the Bible is true in every way that can be tested, and that the message of Scripture is both personal and eternal. Our prayer is that no one leaves our Discovery Center unaffected. Maybe they will be upset or emotionally moved or intellectually stimulated, but not indifferent!
Early Funding
In the five years ICR has been at this, there have been specialized and somewhat quiet efforts to gain funding for property and structural elements that would ultimately be part of this project. Before we announced last September that we were going to pursue the completion of the Discovery Center, the Lord provided some $5 million that we spent on the additional adjacent property needed to build the Center. We also contracted several early studies and purchased a few key fossil artifacts that are currently housed in the ICR buildings.
Current Funding
Since announcing the initial surprise gift of $2 million that gave us the encouragement to begin in earnest to complete the Center, we have received an additional $5+ million in gifts both large and small, verifying that the Lord's timing was coming to fruition, and were really encouraged by the response from the regular ICR donors. Of that $7+ million, we have spent a little over $2 million on the two major design contracts (building and exhibits), construction analysis, city permits and plat changes, and a host of things that are required to move forward.
An initial piece that must be completed before we actually begin construction is the burial of the utility lines across the frontage of our property. Fortunately, the Lord has provided an "in" with the utility company that has not only saved us nearly one million dollars from the initial estimates, but we are on a priority list that just might have the work finished by the time you read this article. God is good! When all those lines are underground, we can undertake the actual construction of the Center.
Future Funding
One of the axioms of building projects is that they always take longer and cost more than expected. We have tried to anticipate the "more," but as carefully as we plan, it is likely there will be additional items that will pop up in the mix as we move forward. So with that in mind, the remaining minimum of $21 million dollars is broken down into four major pieces.
Construction for the Center, Planetarium, and Landscaping $15,586,359
Construction Cost for the Exhibits $3,784,325
Audio and Visual Equipment $1,310,000
Software and Film Development $698,548
Basic Total for Completion $21,379,232
ICR has already spent some $5,184,000 on the project. Thus, the overall cost of the ICR Discovery Center for Science and Earth History will probably exceed the $26,563,232 that we anticipate.
Of the remaining $21.4 million, ICR had $5,046,000 in cash as of late June and received notice of a $700,000 matching grant that will add another $1.4 million as the matching completes. Maybe you would want to take advantage of that double your gift opportunity. Members of the ICR family have made commitments to give another $1,088,000 over the next 12 months.
That leaves $13,845,232 to be raised over the next 12 to 15 months as the Discovery Center is being constructed and the exhibits and information prepared.
Before We Begin
In order to begin construction on the building, we must sign a financial commitment document with the Beck construction firm. We must raise or gain verifiable commitments of $9 million before we can sign that agreement. Once that level is reached, we will begin construction, which will take approximately 13 months.
As noted above, there is an additional $5,792,873 necessary to complete the exhibit areas, prepare the viability of the large auditorium next to the planetarium, and finish the various audio and visual information materials that must go into the exhibits to make them unique, captivating, and spiritually focused.
Going Forward
Clearly, there is still much to be done. However, the Lord has already provided nearly half of the needs, and the potential donors are most promising. Please pray with us about these remaining funds. Many people have already given, and more are responding every day. But the big gifts must come from those people whom the Lord has given significant wealth. We are in contact with some of them, and others have indicated their interest. Pray that the Lord will open doors to allow us to spend some time with those folks and that they will be disposed to invest in the lives of many yet to come in the generations ahead.
As I mentioned last September, "God's plans stretch out way beyond our lifetimes. The joy comes with the assurance that you and I will share in the changed lives of those not yet in the Kingdom—even those not yet born!"1
We will boldly build and complete the doing!
Click here for more information about the ICR Discovery Center for Science and Earth History.
Reference
Morris III, H. M. 2015. Go For It! Acts & Facts. 44 (9): 7.
* Dr. Morris is Chief Executive Officer of the Institute for Creation Research.