It has been 28 years since Chernobyl's nuclear power plant suffered a catastrophic meltdown in Ukraine. People are still not permitted to live near it because radiation levels remain dangerous, but plants and animals long ago pioneered the Chernobyl Exclusion Zone. A new study revealed surprising hints that certain birds' internal biological tactics cope well with the harmful radiation.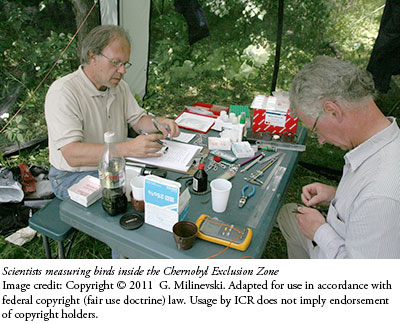 Publishing in the journal Functional Ecology, European scientists described results from analyses they began in the 1990s.1 For starters, they measured amounts of the two main feather pigments from 152 birds of 16 different species: phaeomelanin and eumelanin.
Within cells, phaeomelanin production requires more antioxidants than eumelanin production. One of those antioxidants, called glutathione, also combats radiation's damage to DNA. There seems to be a straightforward tradeoff; if glutathione is used to make phaeomelanin, it's unavailable to combat radiation's effects.
One result of these analyses showed that those birds that produced more phaeomelanin actually suffered more DNA damage, presumably from fewer available antioxidants. Apparently the bird's bodies spend more glutathione on phaeomelanin production than on systems that lead to DNA repairs.
However, the researchers found a surprising result with the area's birds in general. According to a British Ecological Society Press Release, "The results revealed that with increasing background radiation, the birds' body condition and glutathione levels increased and oxidative stress and DNA damage decreased."2
In other words, the birds' health actually appears to improve in the presence of harmful radiation—the DNA damage actually decreased as the radiation increased. How can this be?
Their study did not reveal the details, but it stands to reason that the bird's body cells rapidly responded to high levels of background radiation. Were the animals already equipped not only with precision mechanisms that detect and repair DNA damage due to radiation, but with a built-in dimmer switch that ramps up those mechanisms when radiation abounds? It appears these defenses were preexisting—already built into the birds' genes.
Ingenious contrivances like that don't happen by accident. They come from actual geniuses.
What if the Genius behind these birds is the Creator God of the Bible, whose description in Scripture accounts for His intelligence as well as His original purpose implanted into creatures? The Lord said during the Creation Week, "Let the birds multiply on the earth."3 Then, after the Flood, He said, "Bring out with you every living thing of all flesh that is with you: birds and cattle and every creeping thing that creeps on the earth, so that they may abound on the earth, and be fruitful and multiply on the earth."4 Yes, let them multiply and fill the earth, even in those zones that end up having higher radiation levels.
Similar to the amazing black fungus that uses pigments to actually harness radiation for metabolism and growth, the ingenious biological tactics inside these birds cope quite well with Chernobyl radiation.5
References
* Mr. Thomas is Science Writer at the Institute for Creation Research.
Article posted on May 12, 2014.