"For the vision is yet for an appointed time; but at the end it will speak, and it will not lie. Though it tarries, wait for it; because it will surely come, it will not tarry." (Habakkuk 2:3)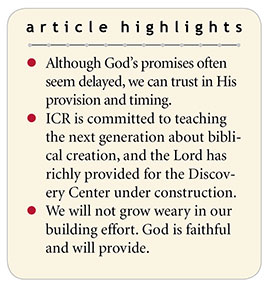 The longer the Lord has allowed me to serve in the Kingdom, the more I have learned to trust in His sovereign timing and control over the affairs of our lives. Yes, He does insist that we "work out [our] own salvation with fear and trembling" (Philippians 2:12). But at the same time, He makes sure we know that "we are His workmanship, created in Christ Jesus for good works, which God prepared beforehand that we should walk in them" (Ephesians 2:10).
We face a troubled world. The prophet Habakkuk also lived in a turbulent time. The northern 10 tribes had been taken captive by Assyria. Judah, where Habakkuk lived, would soon be sacked by Nebuchadnezzar and swept into exile, in fulfillment of God's warnings of judgment on His disobedient people.
But along with the warnings by Jeremiah and other prophets during those days, there were short cameos of God's promise to reestablish Israel and fulfill all His assurances of rebuilding and restoration. Habakkuk was given such an assurance, a vision of greatness and prosperity that was certainly not part of his experience. He was given a promise of victory and the joy of salvation that would surely come, along with a national praise for God's glory and strength.
The vision would come, and even "though it tarries, wait for it; because it will surely come, it will not tarry." In simple terms, the promise is real, even though it seems to be delayed. God has promised it. It will come!
September 2015
My September 2015 feature article in Acts & Facts, "Go For It!," was written around the encouraging gift ICR received from an unexpected source. This enabled us to feel the Lord was verifying we should proceed to build the ICR Discovery Center for Science and Earth History that is now nearing completion. At that time, we had nothing much but a vision to build something that would reach many over several generations with the foundational message of a recent creation by an omniscient and omnipotent sovereign Creator.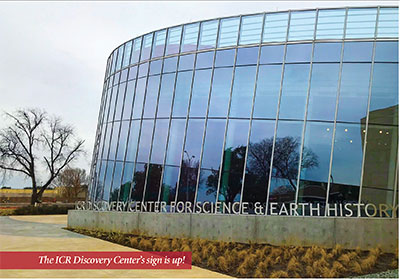 I noted in the article that I had been hesitant to move forward with our hope to build a teaching museum and planetarium here in the DFW area, in spite of the desperate need, because the funding seemed out of reach. But with that unexpected gift and your response over the next three years, that dream is becoming a reality.
Foundational Commitment
Over the next several months, we began to focus our planning and build a foundational purpose to make what had been a vision of our hearts into a more concrete commitment. It became clear that we wanted and needed a teaching museum that would be a constant and growing resource for years to come. Psalm 78:4-7 became the theme for our effort:
We will not hide them from their children, telling to the generation to come the praises of the LORD, and His strength and His wonderful works that He has done. For He established a testimony in Jacob, and appointed a law in Israel, which He commanded our fathers, that they should make them known to their children; that the generation to come might know them, the children who would be born, that they may arise and declare them to their children, that they may set their hope in God, and not forget the works of God, but keep His commandments.
Those verses have been ICR's foundational commitment since our planning became clear. They have guided decisions on the shape of the exhibits, the content made available through the many touchscreens in those exhibits, and the planetarium presentations and short visual shows that will be available in the Discovery Center.
Groundbreaking—April 2017
It is hard to express the wonderful fellowship we enjoyed on that beautiful spring day of April 21, 2017, when we broke ground for the new center. Over 300 folks showed up to rejoice with us as we formally started construction on the plot of ground the Lord had provided over three years earlier. God's timing is never late, but our short view of life often pressures us to "get on with it" as the vision clarifies and the Lord begins to provide resources.
Perhaps we should never become "antsy," since the Lord tells us to not "grow weary while doing good, for in due season we shall reap if we do not lose heart" (Galatians 6:9). In fact, we are very clearly told: "Be anxious for nothing, but in everything by prayer and supplication, with thanksgiving, let your requests be made known to God" (Philippians 4:6).
Yet, as a project grows more complex, and the inevitable delays in any big project become known, it is normal to worry and fume about what we have very little control over. And the Discovery Center project has been no exception!
Almost from the very start of clearing the property and digging the various places for foundation support, we ran into drainage and sewage issues. Longer pipe runs, bigger detention ponds, geological mapping and soil samples that did not meet expectations, and exceptions (read change orders) became part of the decision process—with very little ability on our part to make any impact.
But the Lord never says "oops." We just have trouble resting in His sovereign oversight of even the little details. And of course, as things began to work themselves out, it became clear that the changes were all necessary for a stable and safe environment—not to mention the assurance that all of the new construction would be "stable and safe" for decades to come!
God's Provision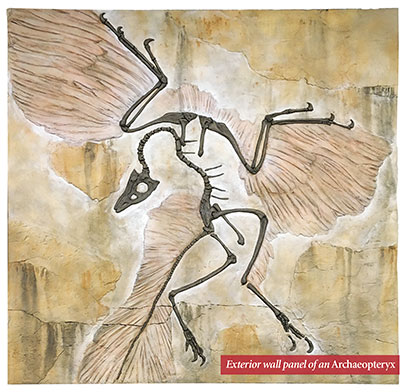 One of the most joyous reports we can give to those of you who have faithfully prayed and given to the Discovery Center project—and faithfully prayed and given to the everyday operational ministry of ICR—is that every nickel that has been needed so far has been provided for both the extra capital project of the Discovery Center and the ongoing ministry and mission of the Institute for Creation Research.
About 80% of the operational funds we need come from donations. Our income from books, DVDs, seminars, honorariums, etc. does not begin to cover the day-to-day operating costs of our work. Every penny of the millions that have been spent so far on the Discovery Center has come from those among our following who have given, some sacrificially, to cover the work the Lord has enabled us to do.
We still make Acts & Facts and Days of Praise available without subscription costs to any and all who ask. The magazine reaches over 250,000 every month, and the devotional quarterly booklet exceeds 500,000 every issue. Those carefully planned publications, our efforts to respond to supporters with timely letters of encouragement, and the ongoing budget for our staff are all met by the generosity of our readers. Thank you!
Going Forward to the Grand Opening
As the increasing complexity of the Discovery Center became more apparent, it was clear we would move well into 2019 before we could complete the exhibit displays and certify the many informational sources made available through the exhibit hall touchscreens. For several months we had been feeling the impact of the two axioms of capital projects: 1) It costs more than initially thought, and 2) it takes longer than initially planned.
We had hoped to be finished with the new construction by August 2018. Although it's essentially now complete, as of this writing we won't have a final conditional operational permit for the new portion—including the planetarium, resource center, and auditorium—until February. That portion is functional, and we have had and will have presentations to special groups over the next few months. But we won't have full use of the Discovery Center with all of the exhibits complete and functioning until this summer.
It will then take three to four weeks for vendors to provide the necessary training for us to "debug" everything and make sure there are no hiccups after we open to the public. That means that any official grand opening cannot take place until sometime in the fall. That's the best we can forecast from where we stand today.
Needs Yet to Be Realized
The Lord has brought in donations from well over 20,000 Acts & Facts and Days of Praise readers to pay for all but about $3,500,000 of the entire cost of this magnificent ICR Discovery Center for Science and Earth History. Please pray with us about these needs. So far, we have not had to borrow one dime. I would love to be able to open the Discovery Center without any debt. That would give us far more freedom to staff properly, open generously, keep entry and membership fees within reach of most of the Lord's family, and continue to grow as the Lord provides the guidance.
And as ever when we do the work of God's Kingdom, we must keep in mind the admonition of 1 Corinthians 15:58: "Therefore, my beloved brethren, be steadfast, immovable, always abounding in the work of the Lord, knowing that your labor is not in vain in the Lord."
* Dr. Morris is Chief Executive Officer of the Institute for Creation Research. He holds four earned degrees, including a D.Min. from Luther Rice Seminary and an MBA from Pepperdine University.