Now may the God of hope fill you with all joy and peace in believing, that you may abound in hope by the power of the Holy Spirit. (Romans 15:13)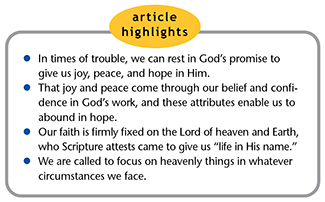 The seemingly sudden onset of the coronavirus pandemic has brought a time of trouble. The past few months have been difficult for many people in our country. Millions have lost jobs or suffered a reduced work volume and consequently face fearful financial uncertainty. And while the economy will no doubt rebound, it's likely there'll be turmoil for the tens of thousands of small businesses that won't recover and must retool and refocus on other ventures. Small churches might not have the resources to maintain contact with their congregations under mandates to shelter in place or limit group gatherings, resulting in a trend for those members to participate in online worship with larger churches.
It's not yet clear just how all of these restrictions will change our lives and social interaction with each other, but we who are privileged to be a part of the Lord's Kingdom shouldn't be anxious about the future. The Scriptures offer precious promises from God to His people that we can rest in during times like these.
God Fills with Joy
When the apostle Paul wrote his letter to the Romans, Rome was a corrupt empire. The active persecution of Christians was in the early stages under the Emperor Nero, and many feared for their lives. But in his closing instructions about salvation, Paul makes no mention of the chaos and turmoil these brothers and sisters were going through, praying instead that the "God of hope" would fill the saints with "all joy and peace in believing."
God is able to do something to us that results in an abounding hope—a work in us that "fills us to the maximum extent possible" with "all joy...in believing." This theme runs throughout the New Testament.
1 John 1:4—These things we write to you that your joy may be full.
John 15:11—"These things I have spoken to you, that My joy may remain in you, and that your joy may be full."
2 Corinthians 7:4—I am exceedingly joyful in all our tribulation.
Romans 14:17-18—The kingdom of God is not eating and drinking, but righteousness and peace and joy in the Holy Spirit. For he who serves Christ in these things is acceptable to God and approved by men.
2 Corinthians 13:11—Finally, brethren, farewell (Greek "joy"). Become complete. Be of good comfort, be of one mind, live in peace; and the God of love and peace will be with you.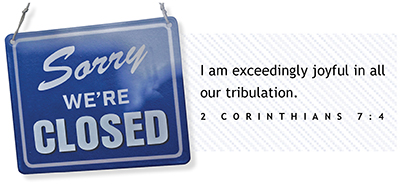 God is both willing and able to fill His saints with "all joy and peace in believing." Scripture emphasizes continual joy under all circumstances, "that you may be filled with the knowledge of His will in all wisdom and spiritual understanding; that you may walk worthy of the Lord, fully pleasing Him, being fruitful in every good work and increasing in the knowledge of God; strengthened with all might, according to His glorious power, for all patience and longsuffering with joy" (Colossians 1:9-11).
God's Joy and Peace Produce Hope
This filling with joy is implemented by God and is to be with "all...peace in believing." These precursors to hope are not dependent on physical experiences or circumstances. "Joy" is the English translation of the Greek word chara. The core meaning is a state of mind rather than a feeling. The multiple derivatives are translated by: rejoice, joy, joyful, joyous, joyfully, joyfulness, farewell, hail, greeting, God speed, be glad, and gladness.
"Peace" is the English translation of the Greek word eirene. Again, the core meaning is a state of mind versus a feeling—the state of national tranquility; exemption from the rage and havoc of war; peace between individuals (i.e., harmony, concord); security, safety, prosperity, and felicity, because peace and harmony make and keep things safe and prosperous.
Both Joy and Peace Are Obtained Through Believing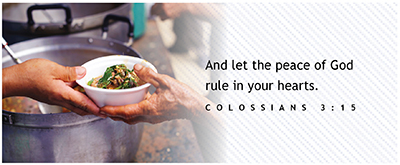 The believing in question is faith, trust, and confidence in the work and power of the Creator administered to/for us by the Holy Spirit. The promise is that God will fill us "by the power of the Holy Spirit." The condition of "peace" is essentially equivalent to shalom in Hebrew. Shalom carries a broad connotation: completeness, contentment, peace, quiet, soundness, tranquility, welfare. Shalom emphasizes well-being, health, national tranquility.
The peace described in the Old Testament is focused on the nation of Israel.
Isaiah 54:10—"For the mountains shall depart and the hills be removed, but My kindness shall not depart from you, nor shall My covenant of peace [shalom] be removed," says the LORD, who has mercy on you.
Psalm 122:6—Pray for the peace [shalom] of Jerusalem: "May they prosper who love you."
Ezekiel 34:25—"I will make a covenant of peace [shalom] with them, and cause wild beasts to cease from the land; and they will dwell safely in the wilderness and sleep in the woods."
In contrast, the peace revealed in the New Testament is applied more to the individual saint.
John 14:27—"Peace I leave with you, My peace I give to you; not as the world gives do I give to you. Let not your heart be troubled, neither let it be afraid."
2 Thessalonians 3:16—Now may the Lord of peace Himself give you peace always in every way. The Lord be with you all.
Colossians 3:15—And let the peace of God rule in your hearts, to which also you were called in one body; and be thankful.
Abounding in Hope
The English word "hope" appears 61 times in the New Testament, demonstrating the emphasis our Lord places on our working out our salvation here on Earth with the powerful confidence that hope in God's promises brings. Please notice that God does not hope; He establishes hope in us. The precursors Paul speaks of (joy and peace) are attributes God gives to us so we might "abound" in hope: "Now may the God of hope fill you with all joy and peace in believing, that you may abound in hope by the power of the Holy Spirit" (Romans 15:13).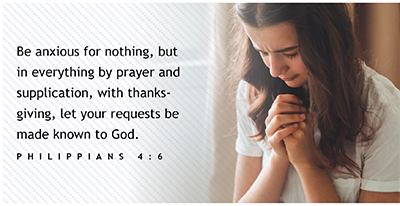 God has made it possible for us to be filled with the motivating purpose our Lord Jesus knew when "the joy that was set before Him" enabled Him to endure the awful judgment in our place on the cross (Hebrews 12:2). That kind of joy is available from our Creator, as is the "peace of God, which surpasses all understanding" (Philippians 4:7) to fill us so that we can "abound in hope."
Basically, all of this boils down to our believing what God can do for us. He gives us His joy and His peace so that we can abound in hope. That joy and peace come through belief in the work of the triune Godhead. For a twice-born believer, that should be easy. We trusted Him for our salvation, and we rest in our sins being forgiven. Why, then, would we have trouble believing that His joy is available or that His peace is ready to fill us?
Perhaps we have trouble when we don't keep fresh in our minds who the Lord of heaven and Earth really is. Maybe we get so caught up in the momentary frustrations of our circumstances that we fail to seek His face in prayer—or fail to keep our minds engaged in learning the great truths in the Scriptures. The Lord has given us abundant evidences of His omnipotence and omniscience.
For instance, there is the power of His miracles of creation recorded in John's gospel.
Then there are our Savior's seven great "I am" statements that identify Him as God in the flesh.
Jesus specifically said, "If I do not do the works of My Father, do not believe Me; but if I do, though you do not believe Me, believe the works, that you may know and believe that the Father is in Me, and I in Him" (John 10:37-38). The beloved apostle John closed his account of the Lord's ministry with this statement:
And truly Jesus did many other signs in the presence of His disciples, which are not written in this book; but these are written that you may believe that Jesus is the Christ, the Son of God, and that believing you may have life in His name. (John 20:31)
Like John's original readers, we too can use this record of the Savior's earthly ministry to affirm our belief that He is indeed "the Christ, the Son of God" who has given us "life in His name." It is He who gifts us with the "joy and peace in believing" that allow us to "abound in hope." In closing, remember that we can, like the believers of Paul's day, focus on the things of heaven no matter what external circumstance we face:
Be anxious for nothing, but in everything by prayer and supplication, with thanksgiving, let your requests be made known to God; and the peace of God, which surpasses all understanding, will guard your hearts and minds through Christ Jesus. Finally, brethren, whatever things are true, whatever things are noble, whatever things are just, whatever things are pure, whatever things are lovely, whatever things are of good report, if there is any virtue and if there is anything praiseworthy—meditate on these things. (Philippians 4:6-8)
* Dr. Morris is Chief Executive Officer of the Institute for Creation Research. He holds four earned degrees, including a D.Min. from Luther Rice Seminary and an MBA from Pepperdine University.