Designed by Susan Windsor*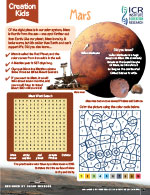 You're never too young to be a creation scientist! Kids, discover fun facts about God's creation with ICR's special Creation Kids learning and activities page.
Of the eight planets in our solar system, Mars is fourth from the sun—one spot farther out than Earth. Like our planet, Mars is rocky. Why is it red, and how long would it take to travel there? Find out this and more!
Click HERE to download the September-October 2023 activity page.
Click HERE for all of ICR's Creation Kids activity pages.
* Ms. Windsor is Graphic Design Specialist at the Institute for Creation Research.