The article requested is not found.
Browse through our Archives of articles.
Use our powerful article Search Tools.
The Unique Earth
"The heaven, even the heavens, are the LORD's: but the earth hath he given to the children of men." (Psalm 115:16)
More...
Our Rock: The Creator
"Of the Rock that begat thee thou art unmindful, and hast forgotten God that formed thee." (Deuteronomy 32:18)
More...
The Case of the Missing Fulgurites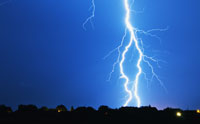 Fulgurites are fossilized lightning strikes. Physicist Don DeYoung wrote that after 4.6 billion years, at the current lightning-strike rate, every square meter of land should contain far more fossilized lightning strikes than it can even hold. New fulgurite research updates the numbers to bring this fulgurite problem into sharper focus.
More...
Preaching the Resurrection
"And with great power gave the apostles witness of the resurrection of the Lord Jesus: and great grace was upon them all." (Acts 4:33)
More...
More Articles