Pluto's Craterless Plains Look Young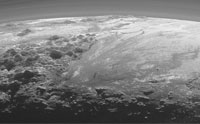 Earlier this year, New Horizons flew past dwarf planet Pluto and its sister Charon, rapidly capturing data. That information continues to trickle in, revealing a surprisingly smooth heart-shaped plain called "Tombaugh Regio." The countless craters expected from billions of years' worth of impacts are nowhere to be found. More...
Recent News
© 1995-2015 Institute for Creation Research. All rights reserved.