Videoconference with ISS Commander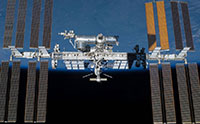 The Institute for Creation Research had the special privilege of videoconferencing with ISS Commander Col. Jeff Williams. He has occasional video-time with family and friends, and he graciously offered a question and answer session to the Dallas ICR staff while his wife, Anna-Marie, listened in from Houston. His responses give us a unique look into his heart.
More...
Recent News
© 1995-2016 Institute for Creation Research. All rights reserved.