Thanksgiving in Heaven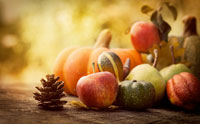 "We give You thanks, O Lord God Almighty, The One who is and who was and who is to come, because You have taken Your great power and reigned" (Revelation 11:16-17). This is the final reference in the Bible to the giving of thanks. It records a scene in heaven where the 24 elders, representing all redeemed believers, are thanking God that His primeval promise of restoration and victory is about to be fulfilled. More...
Recent News
© 1995-2014 Institute for Creation Research. All rights reserved.