Encore Presentation of Patterns of Evidence: Exodus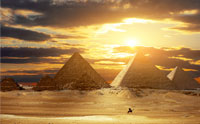 The Exodus is one of the best-known narratives in the Bible. It details the Israelites' escape from Egypt after centuries of slavery, Moses' rise to leadership, the devastating plagues on Egypt, and the miraculous Red Sea crossing. Yet many archaeologists and historians insist there is no evidence that the biblical Exodus ever occurred. This debate is the subject of the award-winning documentary Patterns of Evidence: Exodus that has an encore presentation this Thursday. More...
Recent News
© 1995-2015 Institute for Creation Research. All rights reserved.