Dinosaur Fossils Found in Marine Rocks...Again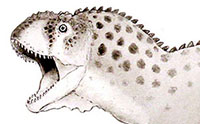 Another spectacular dinosaur fossil discovery has baffled paleontologists who deny the historical accuracy of the book of Genesis. New Scientist recently reported the identification of a T. rex-like dinosaur from Upper Cretaceous system rocks in North Africa. What confounded the scientists were the phosphate-rich rocks in which the bones were found—rocks indicative of deposition in an open ocean.
More...
Recent News
© 1995-2017 Institute for Creation Research. All rights reserved.