Sea Serpent on Danish Ship Prow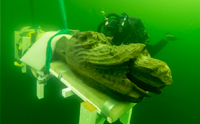 On August 11, researchers from Södertörn University in Sweden raised an ancient 660-pound ship's prow from the floor of the Baltic Sea. The 11-foot-long beam features an exquisite dragon carving. Discovery News wrote that Marcus Sandekjer, head of the nearby Blekinge Museum which aided the extraction "believes it looks like a monstrous dog." It fits in well with other sea-serpent artwork in history. More...
Recent News
© 1995-2015 Institute for Creation Research. All rights reserved.