Stunning Bird Fossil Has Bone Tissue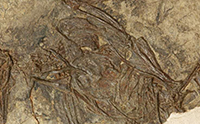 Recently, Chinese researchers described their discovery of the "earliest" bird fossil with fused pelvic bones, just like modern birds. Also like modern birds, this fossil appears to be made of original bone, not mineralized bone (which would be rock). Could any process preserve actual bones for 120 million years?
More...
Recent News
© 1995-2017 Institute for Creation Research. All rights reserved.