Brain Bath: A Clever Design Solution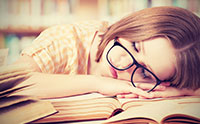 What makes sleep so mentally refreshing? University of Rochester neuroscientist Jeff Iliff addressed the crowd gathered at a September 2014 TEDMED event and explained his amazing new discoveries. The words he used perfectly match what one would expect while describing the works of an ingenious designer. More...
Recent News
© 1995-2014 Institute for Creation Research. All rights reserved.