Sea Worm Is 'Man's Ancestor'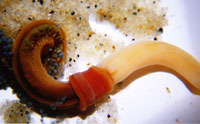 On July 7, BBC News reported the rare discovery of a fossilized sea worm, classified as a hemichordate, a sophisticated invertebrate. Evolutionists are excited because this find supposedly provides insight into early evolution. And some evolutionists even see this worm—called Oesia—as a half-billion-year-old ancestor of man.
More...
Recent News
© 1995-2016 Institute for Creation Research. All rights reserved.