Roundworm DNA System Plans Ahead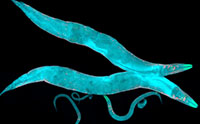 Intriguing studies demonstrate that many different animals have the ability to transmit information about their environment to their offspring, sometimes using a process called epigenetics. Most often, the genetic memory of a parent or grandparent's environmental experience traverses no farther than a half-dozen generations. Recently, researchers accidentally discovered the farthest-reaching epigenetic signal ever known.
More...
Recent News
© 1995-2017 Institute for Creation Research. All rights reserved.