Twins Provide Peek Into Mankind's Origin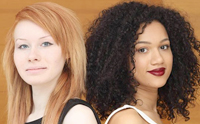 Lucy and Maria Aylmer are 18-year-old twins from the United Kingdom. They were born on the same day from the same mother, yet one has light skin and hair, and the other has dark skin and dark, curlier hair. Their unique story illustrates how human-trait variations found around the world could have arisen suddenly in Noah's offspring. More...
Heads, Evolution Wins--Tails, Creation Loses?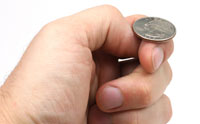 Wouldn't two billion years of mutations and changing environments inevitably produce some effects in an organism? After all, in only a quarter of that supposed time, evolutionary processes are said to have transformed fish into people. Mutations supposedly occur nonstop, but the authors of a new paper now say that creature stasis proves evolution. More...
Spiders Have Always Been Spiders
A University of California Berkley graduate student has discovered two beautiful new species of peacock spiders in southeast Queensland, Australia. The student, Madeline Girard, named the two colorful creatures "Sparklemuffin" and "Skeletorus," both of the genus Maratus. Are these splendid specimens highly evolved species or have spiders always been spiders? More...
Live Webcasts March 18 and 22!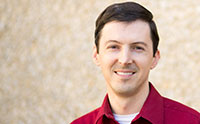 Get a front-row seat to "Science Confirms Biblical Creation" and "Your Origins Matter" in the comfort of your own home as ICR astrophysicist Dr. Jason Lisle shares biblical and scientific truths. Go to ICR.org/webcast at 7:00 p.m. PDT on Wednesday, March 18, and 9:00 or 10:30 a.m. PDT on Sunday, March 22, to view these engaging presentations. More...
Cancer Research Inadvertently Refutes Evolution
How did nature supposedly transform a single-cell organism into all the varieties of land-walking animals in our world today? Textbook explanations invoke natural selection of beneficial mutations across unimaginable time, with a bit of help from "junk DNA" and heaps of serendipitous chance. Though it was not intended as a test of evolution, a new cancer research discovery jeopardizes these unfounded evolutionary assumptions. More...
Lids, Lashes, and Lunar Rovers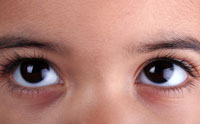 A recent discovery indicates our eyelashes must measure at just the right length to function properly. Scientists at the Georgia Institute of Technology studied 22 mammal lash lengths and reported that, from giraffes to hedgehogs, lash length was of "optimum" length—about one-third of the width of the given mammal's eye. More...
Manganese Nodule Discovery Points to Genesis Flood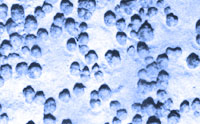 Scientists recently discovered a large batch of manganese nodules on the floor of the Atlantic Ocean. These metallic pellets provide strong evidence that most seafloor sediments were deposited rapidly, not slowly and gradually over millions of years. Are these nodules evidence of the Genesis Flood? More...
Recent News