Three-Dimensional DNA Code Defies Evolution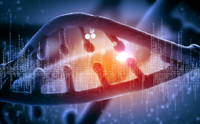 Scientists have long been baffled as to what actually tells proteins called transcription factors (TFs) where to bind in the genome to turn genes off and on. However, new research incorporating the three-dimensional shape of DNA has revealed an incredibly complex system of interacting biochemical codes. More...
Mosasaur Babies: Aren't They Cute?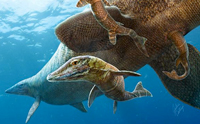 We often hear claims that birds are similar to dinosaurs, but birds and mosasaurs? Mosasaurs were swimming reptiles. How can they be confused with birds? A recent study published in Palaeontology by Yale University's Daniel Field and his colleagues clears up some of this confusion and in the end, illustrates a mosasaur lifecycle of marvelous design. More...
No Salamander Evolution Evidence, Past or Present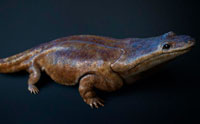 Scientists in Portugal unearthed a "super salamander" which, although "weird compared to anything today," is still very much a salamander. The fossilized bones of the six-foot animal were discovered on a hillside dig "chock-full" of bones and declared to originate from the "Upper Triassic" period, some 200 million years ago according to evolutionary dating. But creationists see this as yet another discovery of a created animal that grew to large dimensions in the fertile world before the Flood, and was subsequently buried during the Flood itself. More...
Myths Dressed as Science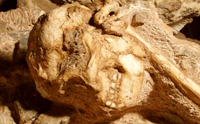 A recent MSN article claims a fossilized hominid called "Little Foot" found near Johannesburg, South Africa, is approximately 3.67 million years old, as does a similar report in ScienceNews. Both articles provide insufficient detail to make an intelligent evaluation of the method used to arrive at the stated conclusion, and as such that conclusion must be regarded as suspect. More...
Saturn's Enceladus Looks Younger than Ever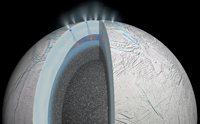 The more we learn about Enceladus, the younger it looks. Stated another way, the more that our space probes discover about this fascinating little moon that inhabits Saturn's tenuous E ring, the more challenging it becomes for conventional origins to explain. A new discovery adds to the list of young-looking Enceladus features. More...
Another Horizontal Gene Transfer Fairy Tale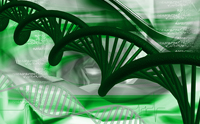 As the genomes of many new creatures rapidly fill the public DNA sequence databases, the problems for the grand evolutionary story are becoming overwhelming. One issue is the fact that different creatures have unique sets of genes specific to their kind with no apparent evolutionary history. To explain this glaring problem, evolutionists have resorted to the myth of pervasive horizontal gene transfer. More...
Dinosaur Moth: An Evolutionary Enigma
Scientists discovered an Australian "dinosaur" moth that, if the evolutionary story is to be believed, has undergone virtually no evolution for at least forty million years. They named it Enigmatinea glatzella. The name is quite descriptive, as Enigmatinea means "enigma moth" in Latin. But why is this moth an enigma to evolutionary scientists?
Recent News