Sea Serpent on Danish Ship Prow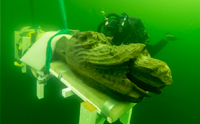 On August 11, researchers from Södertörn University in Sweden raised an ancient 660-pound ship's prow from the floor of the Baltic Sea. The 11-foot-long beam features an exquisite dragon carving. Discovery News wrote that Marcus Sandekjer, head of the nearby Blekinge Museum which aided the extraction "believes it looks like a monstrous dog." It fits in well with other sea-serpent artwork in history. More...
Giant Galaxy Ring Shouldn't Exist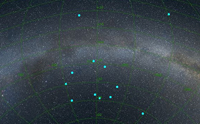 A team of astronomers from Hungary and the United States, led by Professor Lajos Balázs of Konkoly Observatory in Budapest, has announced the discovery of an enormous ring of galaxies. According to the Big Bang model, this ring should not exist. More...
Cell Feature Resembles Power Grid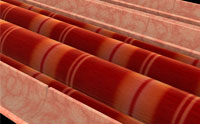 Apparently, it's time to alter biology and anatomy textbooks again. There's much more to mitochondria than we ever thought. Researchers revealed that these tiny cellular power houses are highly organized to efficiently deliver ATP energy. They interconnect throughout muscle cells, forming a gigantic mitochondrial network. Researchers published this stunning discovery in Nature, calling it the "mitochondrial reticulum." More...
Undersea Monolith Reveals Genius Engineering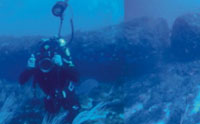 Of all the scientific disciplines, underwater archaeology may be one of the most fascinating. These researchers examine artifacts our ancestors left behind before global sea level rose and covered them. A newly discovered monolith—a gigantic rock placed in what is today the Mediterranean Sea—confronts a few evolution-based errors about human origins. More...
New Horizons at Pluto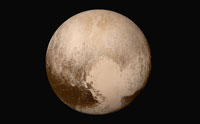 Congratulations to the New Horizons team on their remarkable achievement of sending a spacecraft to Pluto. The mission was a complete success, and we are enjoying high-resolution images of never-before-seen surface features of this distant little world. These pictures dazzle the mind and are already beginning to challenge secular thinking. More...
Snakes with Legs?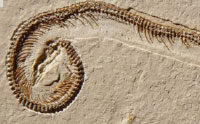 As weird as it may sound, some snakes had legs. Fossils reveal little legs on ancient snakes that have apparently been extinct for some time. Yet, those had only hind legs. Now, in the journal Science researchers describe a new fossil with four limbs. They suggest that this new fossil illustrates how legged snakes evolved from legged lizards. Is this accurate? More...
Jesus Lizard Runs on Water, Tramples Evolution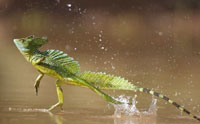 Jesus lizards literally run across the surface of ponds in Central and South America. According to evolutionary thinking, all reptiles—snakes, turtles, gavials, dinosaurs, pterosaurs, chameleons, skinks, and Jesus lizards—descended from an unknown original reptilian form. What evidence might demonstrate this? Strings of fossils should clearly connect each basic reptile kind back to that supposed key ancestor. It should have interchangeable or adjustable body features that natural forces could have manipulated without disrupting the evolving creature's essential functions. A newly discovered fossil of a Jesus lizard in Wyoming shows just the opposite evidence. More...
Recent News