The article requested is not found.
Browse through our Archives of articles.
Use our powerful article Search Tools.
Extinct Trees Were World's Most Complicated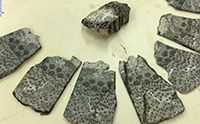 Devonian fossils supposedly hail from a time long before modern oak trees evolved. The Darwinian concept of plants and animals gradually gaining complexity over eons of natural selection paints a picture of simple-to-complex development. But a newly discovered tree fossil from northwest China seems to tell just the opposite tale—that the growth structures in the world's earliest trees were more complicated than in today's trees.
More...
Our Hiding Place
"For in the time of trouble he shall hide me in his pavilion: in the secret of his tabernacle shall he hide me; he shall set me up upon a rock." (Psalm 27:5)
More...
The Only Way
"Jesus saith unto him, I am the way, the truth, and the life: no man cometh unto the Father, but by me." (John 14:6)
More...
Jesus Christ, Our Hope
"This charge I commit unto thee, son Timothy, according to the prophecies which went before on thee, that thou by them mightest war a good warfare; Holding faith, and a good conscience; which some having put away concerning faith have made shipwreck." (1 Timothy 1:18-19)
More...
More Articles