The article requested is not found.
Browse through our Archives of articles.
Use our powerful article Search Tools.
If Earth Is Old, It Should Have Frozen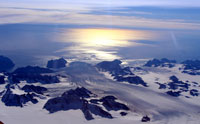 Secular speculations insist Earth coalesced into its current state over four billion years ago, leaving one huge problem: the young sun would have been so dim that Earth would have frozen. Secular astronomers have long invoked methane gas to defray this dilemma, called the "faint young sun paradox." A recent study revealed two new reasons to totally reject methane as a rescuing device, leaving this paradox stronger than ever.
More...
Our Glorious Bodies
"We look for the Saviour, the Lord Jesus Christ: Who shall change our vile body, that it may be fashioned like unto his glorious body, according to the working whereby he is able even to subdue all things unto himself." (Philippians 3:20-21)
More...
Fellowship
"And they continued stedfastly in the apostles' doctrine and fellowship, and in breaking of bread, and in prayers." (Acts 2:42)
More...
The Pleasure of the Lord
"Yet it pleased the LORD to bruise him; he hath put him to grief: when thou shalt make his soul an offering for sin, he shall see his seed, he shall prolong his days, and the pleasure of the LORD shall prosper in his hand." (Isaiah 53:10)
More...
More Articles