The article requested is not found.
Browse through our Archives of articles.
Use our powerful article Search Tools.
Heaven's Commonwealth
"For our conversation is in heaven; from whence also we look for the Saviour, the Lord Jesus Christ." (Philippians 3:20)
More...
Musical Bird Maestros Befuddle Evolution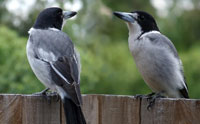 A recent paper shows that the skill of some songbirds to extemporaneously innovate musical repertoire equals that of human musicians. Since none of the apes have this complex human-like capability, the discovery poses a big problem for the evolutionary model of human origins.
More...
To the Animals
"Go to the ant, thou sluggard; consider her ways, and be wise: Which having no guide, overseer, or ruler, Provideth her meat in the summer, and gathereth her food in the harvest." (Proverbs 6:6-8)
More...
The Fatherhood of God
"For in him we live, and move, and have our being; as certain also of your own poets have said, For we are also his offspring." (Acts 17:28)
More...
More Articles