The article requested is not found.
Browse through our Archives of articles.
Use our powerful article Search Tools.
Remembering Mount St. Helens 35 Years Later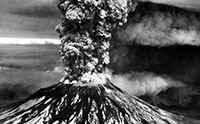 A landslide on the northern side of Mount St. Helens in Washington state on May 18, 1980 uncorked a violent volcanic eruption of ash, vapor, molten material and pulverized rock. The effects of this one of the most scrupulously documented volcanos in history have reshaped the way geologists think about certain landforms. More...
The Pillar and Ground of the Truth
"These things write I unto thee, hoping to come into thee shortly: But if I tarry long, that thou mayest know how thou oughtest to behave thyself in the house of God, which is the church of the living God, the pillar and ground of the truth." (1 Timothy 3:14-15) More...
Pilgrims on the Earth
"These all died in faith, not having received the promises, but having seen them afar off, and were persuaded of them, and embraced them, and confessed that they were strangers and pilgrims on the earth. For they that say such things declare plainly that they seek a country." (Hebrews 11:13-14) More...
A Provoked Spirit
"They angered him also at the waters of strife, so that it went ill with Moses for their sakes: Because they provoked his spirit, so that he spake unadvisedly with his lips." (Psalm 106:32-33) More...
More Articles