The article requested is not found.
Browse through our Archives of articles.
Use our powerful article Search Tools.
Sea Worm Is 'Man's Ancestor'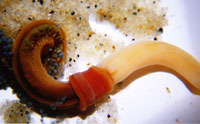 On July 7, BBC News reported the rare discovery of a fossilized sea worm, classified as a hemichordate, a sophisticated invertebrate. Evolutionists are excited because this find supposedly provides insight into early evolution. And some evolutionists even see this worm—called Oesia—as a half-billion-year-old ancestor of man.
More...
The Invisible Law
"For the invisible things of him from the creation of the world are clearly seen, being understood by the things that are made, even his eternal power and Godhead." (Romans 1:20)
More...
The Dazzling Spider
"The spider taketh hold with her hands, and is in kings' palaces." (Proverbs 30:28)
More...
Our Advocate in Heaven
"Also now, behold, my witness is in heaven, and my record is on high." (Job 16:19)
More...
More Articles