The article requested is not found.
Browse through our Archives of articles.
Use our powerful article Search Tools.
I Charge You
"Now the end of the commandment is charity out of a pure heart, and of a good conscience, and of faith unfeigned." (1 Timothy 1:5)
More...
The Created Sun and Moon [Podcast]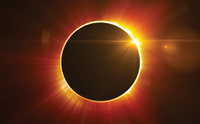 What does Scripture say about the sun and the moon? How do these two "great lights" rule the heavens? In this special episode of Science, Scripture, & Salvation, Dr. Jim Johnson describes the sun and moon's impact on our planet, as well as their effects on plants, animals, and humans. He also sheds light on a historical controversy involving Galileo.
More...
What Was Homo naledi?
Scientists recently reported the discovery of a new human-like species called Homo naledi. Why is this important to Christians? Dr. Clarey clears up the controversy surrounding the latest "missing link" claim.
Other episodes in this series:
Discovering the Pre-Flood World
Revealing the True Age of the Hawaiian Islands
Dinosaur Extinction via Asteroid?
For more radio programs, click here.
More...
Now and Then
"For now we see through a glass, darkly; but then face to face: now I know in part; but then shall I know even as also I am known." (1 Corinthians 13:12)
More...
More Articles