The article requested is not found.
Browse through our Archives of articles.
Use our powerful article Search Tools.
Teach and Preach Continually
"And daily in the temple, and in every house, they ceased not to teach and preach Jesus Christ." (Acts 5:42) More...
For Me to Live Is Christ
"For the love of Christ constraineth us; because we thus judge, that if one died for all, then were all dead: And that he died for all, that they which live should not henceforth live unto themselves, but unto him which died for them, and rose again." (2 Corinthians 5:14-15) More...
Peacemakers
"Blessed are the peacemakers: for they shall be called the children of God." (Matthew 5:9)
In this seventh (out of nine) of the Beatitudes with which Christ began His Sermon on the Mount occurs the first mention in the New Testament of the important word "peace." More...
Plants' Built-in Photosynthesis Accelerators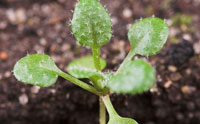 Sunlight can change in a heartbeat. One second, a leaf could be under intense sun and may receive more light than it needs to build sugar molecules through a process called photosynthesis. But a few seconds later, a cloud may wander overhead and block the sun, starving the plant's photosynthetic machinery. A team of plant biologists recently discovered new mechanisms that help plants cope with these fast-changing light conditions. More...
More Articles