The article requested is not found.
Browse through our Archives of articles.
Use our powerful article Search Tools.
Sea Serpent on Danish Ship Prow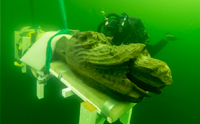 On August 11, researchers from Södertörn University in Sweden raised an ancient 660-pound ship's prow from the floor of the Baltic Sea. The 11-foot-long beam features an exquisite dragon carving. Discovery News wrote that Marcus Sandekjer, head of the nearby Blekinge Museum which aided the extraction "believes it looks like a monstrous dog." It fits in well with other sea-serpent artwork in history. More...
Faith
"And he believed in the LORD; and he counted it to him for righteousness." (Genesis 15:6) More...
King at the Flood
"The LORD sitteth upon the flood; yea, the LORD sitteth King for ever. The LORD will give strength unto his people; the LORD will bless his people with peace." (Psalm 29:10-11) More...
The Wolf and the Lamb Together
"The wolf also shall dwell with the lamb, and the leopard shall lie down with the kid; and the calf and the young lion and the fatling together; and a little child shall lead them." (Isaiah 11:6) More...
More Articles