The article requested is not found.
Browse through our Archives of articles.
Use our powerful article Search Tools.
ICR Falsely Placed on False News List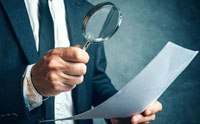 A Harvard library website that offers ways to spot "fake news" links to a non-Harvard google doc with "Tips for analyzing news sources." The doc lists hundreds of "False, Misleading, Clickbait-y, and/or Satirical 'News' Sources," and as of this writing, the list includes the Institute for Creation Research.
More...
The Land of Uz
"There was a man in the land of Uz, whose name was Job." (Job 1:1)
More...
The New Heavens and New Earth
"For, behold, I create new heavens and a new earth: and the former shall not be remembered, nor come into mind." (Isaiah 65:17)
More...
His Word Is with Power
"And they were astonished at his doctrine: for his word was with power." (Luke 4:32)
God's words, whether spoken by Jesus or written in Scripture, are indeed full of power, and it is noteworthy how many and varied are the physical analogies used to characterize and emphasize its power.
More...
More Articles