Paul's Growth
by John D. Morris, Ph.D. | Jan. 24, 2015
"For I say, through the grace given unto me, to every man that is among you, not to think of himself more highly than he ought to think; but to think soberly, according as God hath dealt to every man the measure of faith." (Romans 12:3)
Many times today we look at Paul and wish to be greatly used of God as he was. But Scripture teaches us that use of Paul as a role model requires a proper view of Paul—his humility and his submission to Christ.
Paul didn't start out as a humble servant. In fact, before his conversion, he was quite proud of his pedigree (Philippians 3:4-6). He was the overseer at the stoning of Stephen (Acts 7:58). He was fanatical, the haughty persecutor of the early church (8:3). In grace, he was informed of his error by "Jesus whom thou persecutest" (9:5), and soon Paul recognized the worthlessness of his background and human achievement, and counted all these things "but dung, that I may win Christ" (Philippians 3:8).
Once his view of Christ was proper, Paul's view of himself began to decrease. In A.D. 56 or so, Paul, who had been set apart for a ministry to the Gentiles "from my mother's womb" (Galatians 1:15), called himself "the least of the apostles, that am not meet [fit] to be called an apostle, because I persecuted the church of God. But by the grace of God I am what I am" (1 Corinthians 15:9-10).
While in prison several years later, Paul wrote to the Gentile churches he had founded, marveling that this ministry was given "unto me, who am less than the least of all saints" (Ephesians 3:8). Shortly before he was beheaded in prison for his faith, he testified "that Christ Jesus came into the world to save sinners; of whom I am chief" (1 Timothy 1:15).
As Paul grew older, his evaluation of his own worth decreased. As one draws closer and closer to the light, he is able to see more clearly his own unworthiness. JDM
The Communion of the Saints
"That which we have seen and heard declare we unto you, that ye also may have fellowship with us: and truly our fellowship is with the Father, and with his Son Jesus Christ." (1 John 1:3) More...
2014 Most Notable News: Evolutionary Icons Toppled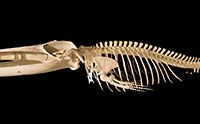 The big-picture story of evolution tells that, over millions of years, natural processes produced millions of species from one or a few primitive progenitors. Did this really happen, or did God create separate distinct "kinds" of creatures about 6,000 years ago like Genesis 1 clearly describes? More...
We, Being Many
"For as we have many members in one body, and all members have not the same office: So we, being many, are one body in Christ, and every one members one of another." (Romans 12:4-5) More...
Joy Is Better than Fun
"Thy words were found, and I did eat them; and thy word was unto me the joy and rejoicing of mine heart: for I am called by thy name, O LORD God of hosts." (Jeremiah 15:16) More...
More Articles