Christ the Foundation
by Henry M. Morris, Ph.D. | Apr. 30, 2017
"For other foundation can no man lay than that is laid, which is Jesus Christ." (1 Corinthians 3:11)
The only sure and lasting foundation for either a Christian institution or an individual Christian life is the Lord Jesus Christ. No other foundation will endure in that coming day when "the fire shall try every man's work of what sort it is" (v. 13).
It is vital, therefore, to build on the foundation that Christ Himself has laid. This is laid in three courses, each of which is essential for its permanence. First of all, we must acknowledge with the apostle that "Thou, Lord, in the beginning hast laid the foundation of the earth; and the heavens are the works of thine hands" (Hebrews 1:10). He is the Creator of all things, and therefore Lord over all.
Second, we must acknowledge with Peter that we have been "redeemed . . . with the precious blood of Christ . . . who verily was foreordained before the foundation of the world" (1 Peter 1:18-20). His foreordained work of redemption thus was foundational even to the foundation of the world!
Then there is the Word of God, which is foundational to everything beyond creation and redemption. "Whosoever cometh to me, and heareth my sayings, and doeth them. . . . He is like a man which built an house, and digged deep, and laid the foundation on a rock: and when the flood arose, the stream beat vehemently upon that house, and could not shake it: for it was founded upon a rock" (Luke 6:47-48).
The Lord Jesus Christ is the true foundation, for He has Himself laid every sure foundation. He created all things, His shed blood is the price to redeem all things, and His written Word, by His Holy Spirit, reveals all things needed to build a beautiful, fruitful Christian life or ministry. No other foundation will last, and "if the foundations be destroyed, what can the righteous do?" (Psalm 11:3). HMM
And Forty Nights
"And the rain was upon the earth forty days and forty nights." (Genesis 7:12)
More...
Honor Your Mother

Children who are taught the Bible from the very beginning have a marvelous advantage. Studies show overwhelmingly that most born-again Christian adults accepted Christ during childhood. While fathers wield the greatest influence in setting the spiritual emphasis within the family, it's often the mother who actually teaches the Scriptures to her children.
More...
Sloppy Religion and Sloppy Science

In 1633, Galileo Galilei faced hostile inquisitors who opposed his astronomical discoveries. Galileo claimed that Earth moves around the sun while the sun stays stationary, which was opposite to what Galileo's church taught.More...
Do Dinosaurs Disprove the Bible?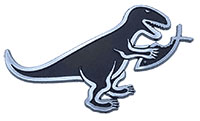 My family and I saw an interesting car emblem while on a road trip. It showed a T. rex-like dinosaur taking a bite out of a Christian fish. This led to a healthy in-car discussion.More...
More Articles