The Reverend God
by Henry M. Morris, Ph.D. | Jul. 1, 2016
"He sent redemption unto his people: he hath commanded his covenant for ever: holy and reverend is his name." (Psalm 111:9)
It is most interesting that the adjective "reverend" is used only this once in the entire King James Bible. And there it applies to God, not to any man!
However, the Hebrew word so translated in this verse (yârê') occurs therein frequently, usually being translated (some 30 times) as "terrible." The first time it is applied to God was by Moses. "Thou shalt not be affrighted at them: for the LORD thy God is among you, a mighty God and terrible" (Deuteronomy 7:21). Note also Moses' testimony in Deuteronomy 10:17: "For the LORD your God is God of gods, and Lord of lords, a great God, a mighty, and a terrible, which regardeth not persons, nor taketh reward."
For those who would deny or oppose Him, "it is a fearful thing to fall into the hands of the living God" (Hebrews 10:31). But God is also uniquely a God of love. He is a merciful and forgiving God; He is "the God of all grace" (1 Peter 5:10) and of many other wonderful attributes.
"He looketh upon all the inhabitants of the earth" (God is thus omnipresent). "He fashioneth their hearts alike" (He is omnipotent). "He considereth all their works" (He is omniscient) (Psalm 33:14-15).
"In the beginning God created the heaven and the earth." If a person truly believes the first verse of the Bible, he should be able to believe all other verses in the Bible, no matter what men or devils can say to the contrary. Our God, who has also become our Redeemer and Savior, is "eternal, immortal, invisible, the only wise God" (1 Timothy 1:17).
He is indeed a God of many attributes. HMM
Evidence of God's Blessing

The Lord has been good to the Institute for Creation Research. Over the last four and a half decades, God graciously increased the scope and influence of our ministry to truly global proportions. We experienced great joys along the way, as well as seasons of difficulty and serious need.More...
Created for Earth, Living in Space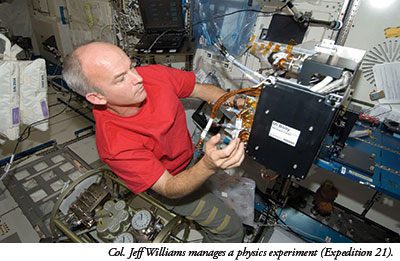 The human body is unique among the living creatures of Earth. It gives us unparalleled abilities to think and invent, and also allows us to perform amazing athletic feats—like climbing Mount Everest or swimming the English Channel.More...
Balancing Church and State

When an American astronaut quotes Psalm 24 and is faulted for violating the so-called separation of church and state, it's time to learn about balance.1 Just as mountain goats need a body designed for balance, we also need deliberate balance in the political arena, where Christians are routinely told to shut up to avoid offending non-Christians.
More...
Why Did Neanderthals Look Different From Us?

When people think of Neanderthals, an evolutionary image of primitive cave men might come to mind. This is bolstered by the perception that they looked very different from modern humans. However, Neanderthals bore four key features that assure us they were human and confirm the Genesis account of humanity's recent origin.
More...
More Articles