If Earth Is Old, It Should Have Frozen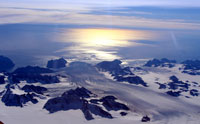 Secular speculations insist Earth coalesced into its current state over four billion years ago, leaving one huge problem: the young sun would have been so dim that Earth would have frozen. Secular astronomers have long invoked methane gas to defray this dilemma, called the "faint young sun paradox." A recent study revealed two new reasons to totally reject methane as a rescuing device, leaving this paradox stronger than ever.
More...
Recent News
© 1995-2016 Institute for Creation Research. All rights reserved.