Earth Remains the Only Goldilocks Planet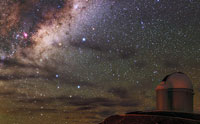 Astronomer Stephen Kane hunts for signs of life in outer space. His team researched a distant star called Wolf 1061. Exoplanets (planets outside our solar system) orbit Wolf 1061, and one of them held the promise of liquid water, a prerequisite for life.
More...
Recent News
© 1995-2017 Institute for Creation Research. All rights reserved.