The article requested is not found.
Browse through our Archives of articles.
Use our powerful article Search Tools.
Asleep in Jesus
More...
Peter and the Name of Jesus
More...
Live Birth Fossil Exposes Evolutionary Enigma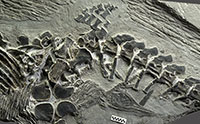 One of the latest ephemeral fossils comes from China—a baby ichthyosaur halfway in and halfway out of its mother's body. Though fossilization tragically ended the baby's transition from the womb, could this specimen support the story that a land reptile evolved into the first ichthyosaur? More...
The Perfections of God
More...
More Articles