The article requested is not found.
Browse through our Archives of articles.
Use our powerful article Search Tools.
Spiritual Ugliness
More...
Spiritual Cleanliness
More...
Weighty Matters
More...
Fossilized Brain May Give Paleontologists Headache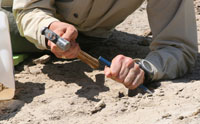 Who has ever heard of a fossilized brain? Few would expect such a discovery, yet it looks like that's what researchers found inside a Stone Age skull from Norway. If so, it would confirm a published creation prediction and challenge many evolutionary timescales. More...
More Articles