The article requested is not found.
Browse through our Archives of articles.
Use our powerful article Search Tools.
Descriptive Attributes of God
"And he said, Men, brethren, and fathers, hearken; The God of glory appeared unto our father Abraham, when he was in Mesopotamia, before he dwelt in Charran." (Acts 7:2)
More...
The Serpent in the Wilderness
"And the LORD said unto Moses, Make thee a fiery serpent, and set it upon a pole: and it shall come to pass, that every one that is bitten, when he looketh upon it, shall live." (Numbers 21:8)
More...
Belief in Creation Declines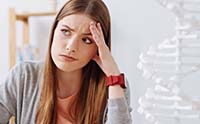 For generations, a large portion of Americans have believed that mankind began only thousands of years ago, not millions. A 2013 poll indicated that this next generation is finally beginning to depart from their forefathers' creation-leaning beliefs.
More...
How to Handle a Multitude of Sins
"Hatred stirreth up strifes: but love covereth all sins." (Proverbs 10:12)
More...
More Articles