The article requested is not found.
Browse through our Archives of articles.
Use our powerful article Search Tools.
Knowledge of Eternal Life
"These things have I written unto you that believe on the name of the Son of God; that ye may know that ye have eternal life, and that ye may believe on the name of the Son of God." (1 John 5:13)
More...
The Whole Counsel of God
"For I have not shunned to declare unto you all the counsel of God." (Acts 20:27)
More...
Great Swelling Words
"These are murmurers, complainers, walking after their own lusts; and their mouth speaketh great swelling words, having men's persons in admiration because of advantage." (Jude 1:16)
More...
Anthropology, Archaeology, and Asteroids [Podcast]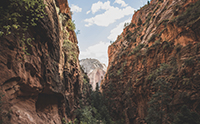 Fascinating creatures and terrifying cataclysms riddle the timeline of Earth history. What can we learn about the pre-Flood world, the origin of humanity, and other scientific mysteries? ICR geologist and Research Associate Dr. Tim Clarey examines groundbreaking evidence that confirms the Genesis narrative.
More...
More Articles